A Healthy Mom's Guide to Travelling With a Baby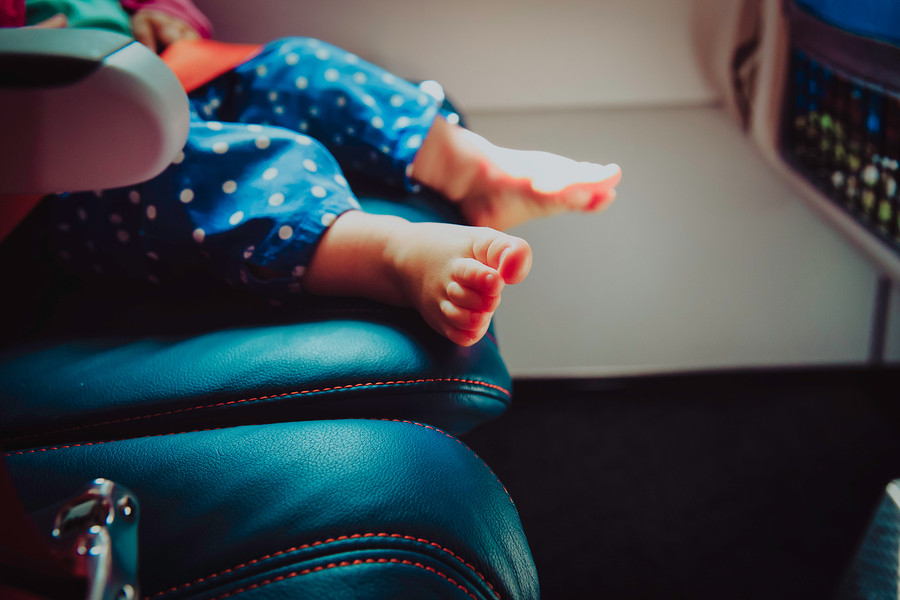 When I was two months pregnant, my husband and I took a 20-hour flight to Siem Reap, Cambodia with another couple. This was just the beginning of many other adventures with our now 19-month old. Luckily, our son seems to enjoy travelling as much as we do! Well...except by car.
Below are a few guidelines to ensure your next trip goes smoothly – or at least as smoothly as possible when flying with an unpredictable little human.
1 – Planning your trip
Don't attempt to visit five different cities in one week. Children thrive on routine – the trip in itself is already a big change for them, so be prepared for a much slower pace.
Staying at a place within walking distance to the main attractions or accessible by public transportation can help you avoid having to take a car seat. Check if the place you're staying has a crib or pack 'n' play, unless you can bring your own. If not, you may be able to rent one from a local business. Also, check if the room has blackout curtains and temperature control.
Don't hesitate to ask other parents who have been to the same destination for tips on what to bring and where to go to make it as seamless as possible.
2 – Booking your flight
Try to book a night flight, if possible. Generally, the noise of the aircraft, combined with a dark cabin will help soothe your child to sleep.
It's free to travel with children under the age of two, unless you want them to have their own seat. We chose the free route and our son slept peacefully in our arms (we took turns holding him – when he got bigger, he would lie on our laps).
If your child can sleep without being held, you can arrange with your airline to have a bassinet (check the airline's requirements). If the bassinet is not an option for you, try to book the bulkhead seats – these seats are great when infants are mobile because they have more space to play on the floor and they can't kick or climb up on the seats in front of them.
3 – What to pack
I keep a running list of items I always need when we travel. This way, I don't have to think about the essentials every time we go on a trip. My list has evolved with time, since we no longer need bottles or a breast pump, for example.
Below are the items I'd recommend packing for a toddler (not including clothing):
White noise machine, or download an app for your phone or tablet

Video monitor

Diapers and wipes

Thermometer

Snot sucker

Bath oil or wash and body lotion

Hairbrush

Books

Black garbage bags and painter's tape for makeshift blackout curtains, if applicable

Car seat, if applicable

Travel crib and sheets, if applicable
For the airport/flight:
Food - pack a variety of healthy snacks so you don't have to rely on airport food

Cups and milk - airlines generally have 2% milk or you can bring your own whole milk (milk and water are allowed through security when travelling with infants)

Lovey and blanket

Baby Tylenol/Advil, as well as your favourite natural remedies

Diapers and wipes

Books and toys

If you are okay with a little screen-time, download your child's favourite show on a tablet (this can be a lifesaver if your flight is delayed and you are running out of ideas)

Change of clothes for you and baby - make sure they are comfy (my son always travels in PJs!)

Carrier – so you can wear your child while navigating through the airport

Stroller - verify with the airline that you can gate check your stroller
As indicated earlier, you may be able to rent baby gear at your destination, including car seats, high chairs, and pack n' plays.
4 – Other Considerations
Try to adjust gradually to the destination's time zone one week before your departure. Allow a few days after you return to re-adjust to your home time zone. I generally plan a few additional vacation days when I return, to ensure a smooth adjustment.
Breastfeeding your baby or giving them something to drink or mouth on during takeoff and landing can help prevent painful ear popping.
With just a bit of extra planning, you will be well on your way to a positive travel experience for you and your family. Also, take lots of pictures because your baby won't remember a thing!