Chickapea Pasta is the New Avocado Brownie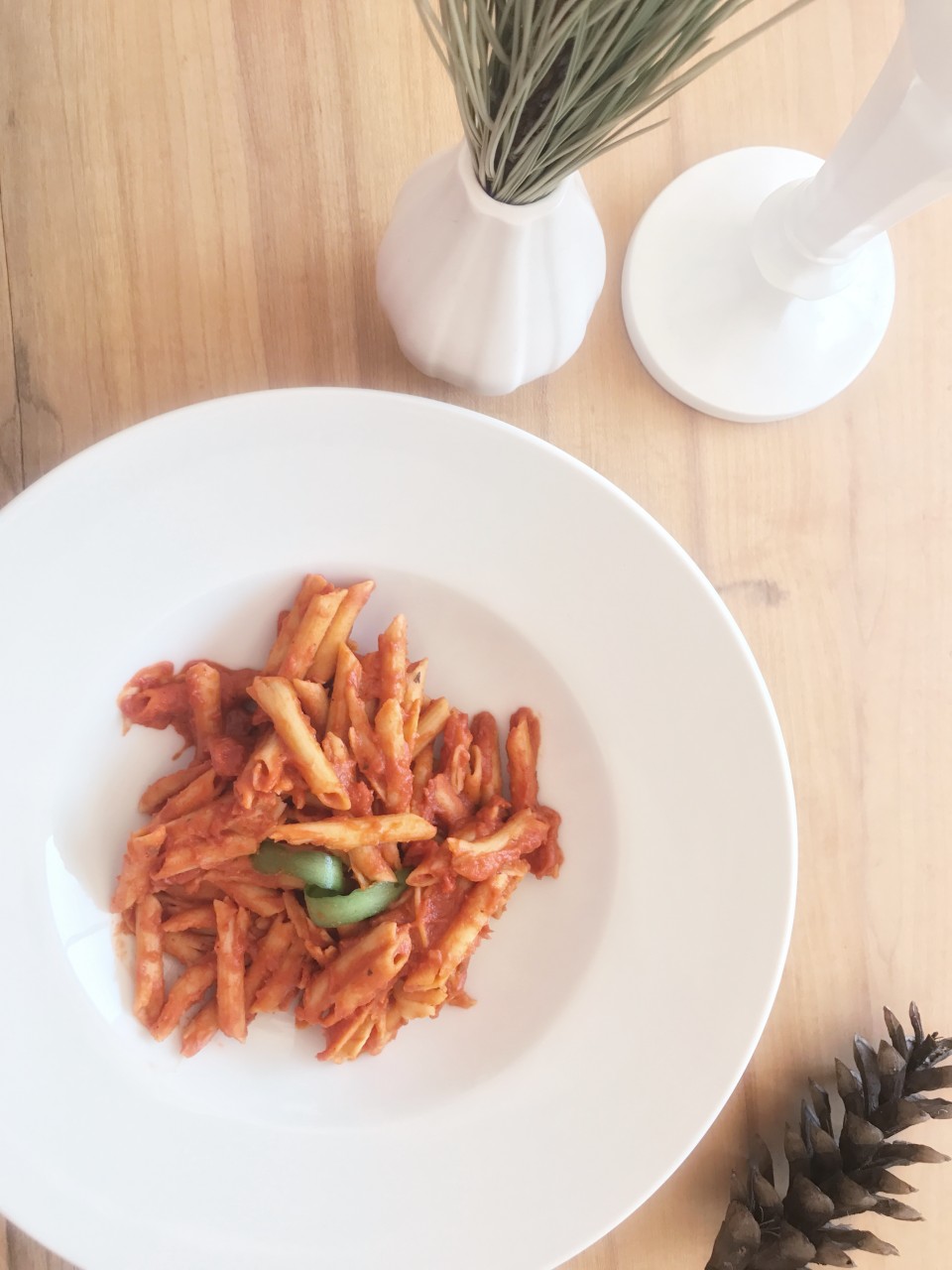 Hooray for Healthy Yummy Food That My Toddler Will Eat
Last night was a hallmark night. My somewhere-between-two-and-a-half-and-three-year-old man-in-training ate four (count 'em, four) helpings of his dinner. During this time, he prompted me several times with "Mama, more pweeez!" and then dived in, occasionally making eye contact to nod emphatically and declare "Yummy!" with an earnestness that was a little bit heartbreaking.
My son used to be a really easygoing eater…until he turned two. From that day on he's been picky and opinionated about my ideas of what constitutes real food. Instead of anything I might suggest, he basically accepts only olives, smoked salmon, bagels and cream cheese, relying on the above for 90% of his sustenance (Jewish delis rejoice!) And so our mealtime struggles began. I consoled myself by remembering the many wonderful, whole and healthy foods I'd put into him in his first few years of life, at the very time all of his organs were *really, actually* still developing.
Then we got a care package with three boxes of Chickapea Pasta in the mail (the shell one, the tube one, and the twirly one), and my son, the very essence of restraint, grabbed them immediately off the kitchen counter. "Mine," he declared, juggling all three boxes in his beautiful little hands and running into the living room. "Oh, you like them?" The excitement in my tone was a dead giveaway. I held my breath. "Mine pasta!" he said.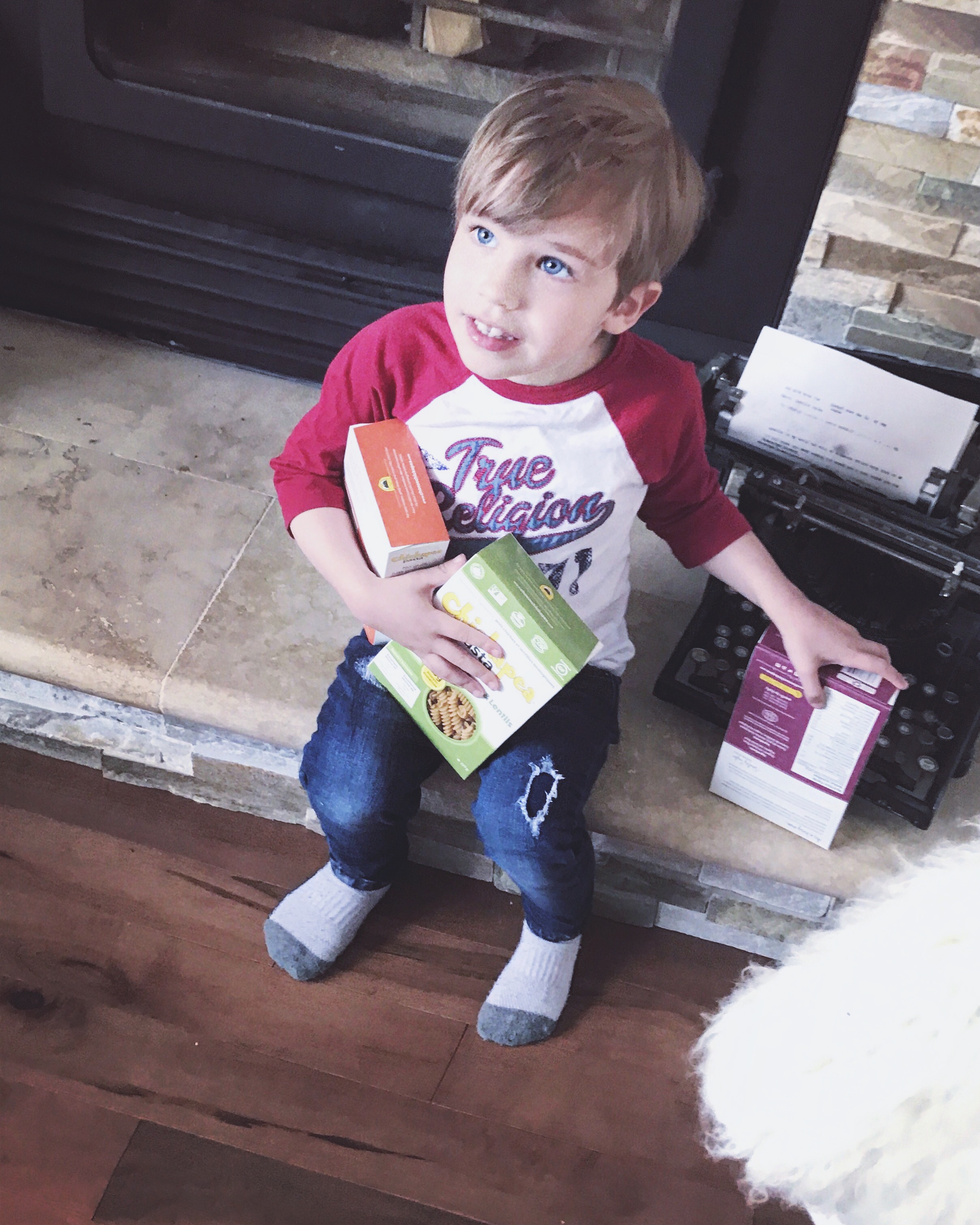 Good enough.
It was decided (not very democratically) that we'd be eating the "boi-oi-oing" or spiral style first, so my husband cooked them up according to the directions on the box—basically standard pasta making procedure and something even I could have handled.
As far as the adults were concerned, the resulting 'noodles' looked and tasted good. Just like pasta, but with a decidedly moreish texture that kept you coming back for just another bite. Then we focused on the wee one. The issue is, my little dude has this thing happening right now where he doesn't like to mix ingredients together, he'd rather eat rice or pasta alone, unfettered by chicken, veggies or the like. This typically means he eats a bowl of rice or pasta with nothing else, then possibly will hit up the smoked salmon if he's still hungry. But with this pasta, instead of eating typical white carbs made of starch, sugar and god only knows what else—he's eating literally only two ingredients: lentils and chickpeas. Good old protein and fibre, two of the great building blocks of healthy kids. Looks like I'm back on track people!
Oh yeah, another perk I'm excited about is that it's kosher​, vegan, gluten free, and both ingredients are organic—so you can basically feed it to anyone. For me, products with these credentials take the fear out of playdates and emergency random kid feedings!
At first glance, the price point is pretty good if you buy online, $35.99 for six 250g boxes (that's $6 each) plus Healthy Moms cardholders get 15% off. Bonus. Aaaand if you're headed to the Healthy Moms Toronto Marketplace, you get one box for $5, three for $13 and six for $25. Woohoo! And while I was doing the math, I realized something more important: you can't compare this to box pasta because you have to add protein to pasta to create a meal, whereas Chickapea Pasta is the meal. Meta.
Chickapea Pasta was a real winner in our home, not only is it the only new food our toddler will eat, it's something I actually really want to put in him. Point goes to mom.
---
The author received boxes of Chickapea Pasta in exchange for an honest review. All opinions are her own.
Related Posts