Conflicting Feelings During The Holidays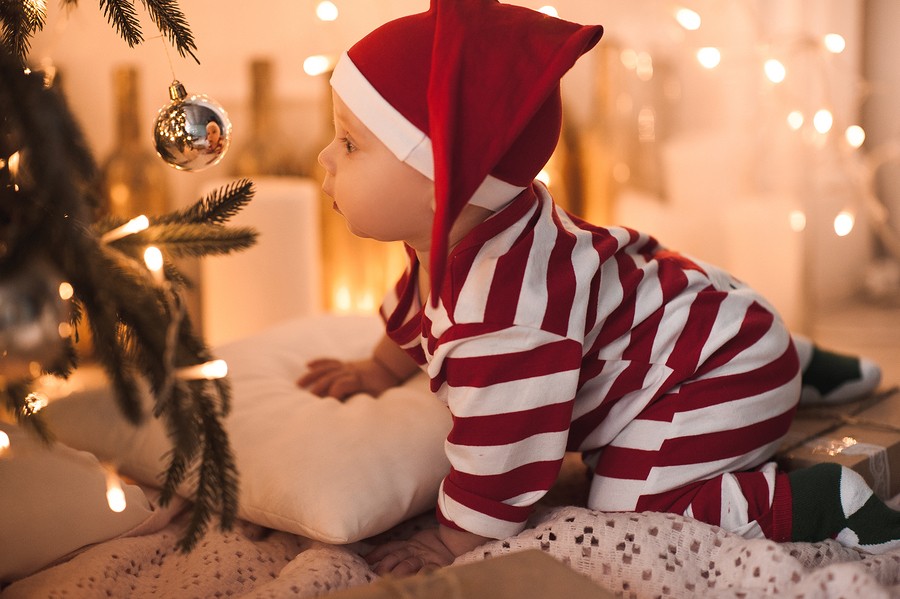 One of the hardest things, when it comes time for the holiday season, is finding a balance between old and new, or between mourning those who aren't with you, and celebrating with those who are. Losing someone you love is never easy, and the circle of life goes on no matter what you have planned, which means that sometimes you have to live in a contradiction of feelings. This Christmas has been exactly that, for me and my family.
The first months of Payton's life were also the last months of my father-in-law's. The starkness of that contrast continues to weigh on our hearts, especially as we experience the holidays with her this year. While we rejoice in all of our daughter's firsts, and enjoy every moment she shares with us, we also mourn the loss of her Nono, whom she will never know.
As I pack up the gifts and our belongings to begin the holiday visits, first to Nana and then her grandma, I remember my own joy at the special love I had with my grandparents. They were always the most entertaining and fun. Whether it was summer visits to the cottage, or the happy Christmas that we spent with them in Florida, they always made things wonderful for us, and wanted us to enjoy the special occasions. They went out of their way to ensure we understood how lucky we were, and how much we were loved, as well.
And so, as we enter this first holiday season with our own child, Payton, we will have to make new traditions, creating new memories as a family.
No first Christmas is complete without a visit to Santa, so in early December we dressed her up and drove to Yorkdale. When it was her turn she looked a little uncertain, and we caught a few solemn shots before she melted down in tears. And only half of my Christmas shopping was done!
I decided not to put up the Christmas tree this year. We'll be away much of the holiday, and as she learns to crawl and stand, I was concerned that she might pull the tree down. Next year, she'll be old enough to enjoy the lights and all the sparkle, so that will become part of our tradition. Even though I didn't grow up in a Christian household myself, I always loved the twinkle of the tree lights.
Today, while still at home, Payton has been playing with her Christmas gifts from us: a new drum and musical instruments that will entertain her for months to come. I know that she'll get plenty of new toys and clothes from Nana and the rest of the family, as well as some funds for her RESP, so that even as she outgrows toys and clothes, we are investing in her future.
As she continues to grow and we are able to develop more of our own family traditions, I hope that one of those will be to give back to the community. Whether it's by delivering cookies and Gifts of Light at CAMH, or volunteering with Project Engagement to provide a family with a food basket, it's important to remember how lucky and blessed we are, as Canadians and as a family.
This holiday, I feel the absence of my father, father-in-law and grandparents. I know they would have loved every smile, clap and hug that Payton shares with the world. The stark contrast of the joy my daughter brings me, and the sadness we feel in mourning these losses, reminds me of the Dickens line, "it was the best times, and it was the worst of times."
As she grows, we'll tell her stories of the family who came before her and how they made sacrifices for us to enjoy so much today. We'll make new traditions to mark the holidays, and make sure to enjoy the little moments, because those moments become the memories that will live in our hearts forever.
Related Posts