Fast, Fancy, and Sustainable Backyard BBQ Ideas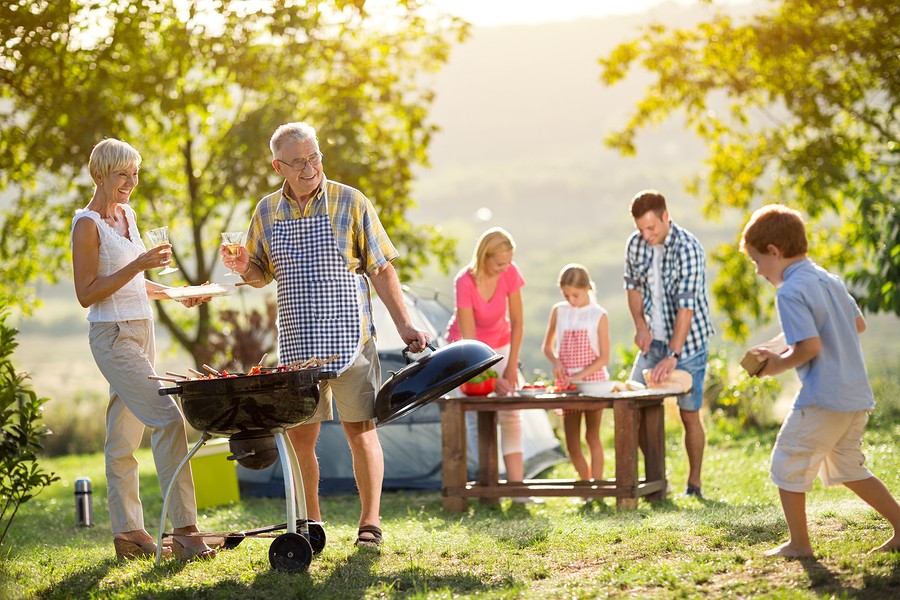 Eating in the great outdoors: a fast, simple and delicious summer menu that's sustainable, too
The weather has finally warmed up, the trees and flowers are in bloom and after a winter of neglect, it is time to fire up your barbeque! I love eating outdoors. It is relaxed, easy, and nothing beats being surrounded by trees and chirping birds. We love to entertain our families and, as is often the case these days, we have a variety of dietary requirements and preferences to cater to. As a host, it is my pleasure to find great, sustainable options for my guests and I was thrilled to discover how easily this can be done thanks to some of the fantastic Healthy Moms partners.
To kick off the evening...
Skipper Otto's Community Supported Fishery connects consumers directly to fishermen which means that consumers get the best fish possible and that small-harvest fishermen can continue to thrive. They have products ranging from live and sushi grade fresh fish to canned and smoked salmon. I had the pleasure of trying out some of Skipper Otto's hot smoked canned salmon and whipped up a couple of cans into some salmon patties.
Smoked Salmon Patties
Salmon patties, a great finger food for little ones and a tasty bite-sized snack for adults, are especially good with the smoked salmon. The recipe is simple; the patties can be made in advance and heated up or even made in large batches and frozen.
Ingredients:
2 cans smoked salmon
1 cup mashed potato
2 eggs, beaten
2 Tbsp capers, roughly chopped
3 Tbsp green onions
2 tsp lemon juice
1/2 tsp salt if not using smoked salmon
Instructions
Drain salmon and place into a medium bowl. Using a fork, break the fish up into small chunks.

Add the rest of the ingredients and stir to combine.

Heat a thin layer of oil in a frying pan over medium heat. When the oil shimmers, scoop walnut-sized balls of the salmon mixture, flatten slightly and place in hot oil. Repeat until the pan is full but not overcrowded. You will probably have to cook the patties in two or more batches depending upon the size of your pan. Flip the patties once they are golden and then serve either immediately or chilled. They are delicious garnished with a dollop of yogurt, a bit of lemon zest and a caper or two.
The Main Event
For the vegetarians and vegans in the crowd, Yam Chops has the solution. The smell in the College Street shop is intoxicating and they have an enormous range of fresh and frozen plant-based products as well as a rainbow of pressed juices. They make several varieties of veggie burgers, available both fresh and frozen, which are sure to delight your vegan guests. Their prepared foods, like the bbq pulled jackfruit pictured below or the tofu ribs we sampled, are delicious and a real treat for vegetarians, like myself, who miss "meaty" foods.
Your carnivorous guests are sure to be satisfied by the meaty options at the Healthy Butcher. Their meat is either organic or 100% grass fed and is always hormone and antibiotic free. In addition to the butcher counter, they have a seriously gorgeous selection of fresh produce and grocery items. If that isn't enough, they will deliver their products to your doorstep with Real Food Toronto and your first purchase with your HMT card is 50% off!!
We had the pleasure of checking out their range of burgers, hot dogs and chicken while entertaining our family, outdoors of course, one weekend recently. They provided us with a pre-marinated and butterflied chicken. Butterflying the chicken sped up cooking time enormously and we loved the convenience of popping the chicken out of the vacuum seal bag and right on to the grill. The burgers and hot dogs were especially popular and I felt confident that everything I had served was made with the highest quality ingredients, something that cannot be said for many commercially available meat products.
Wrapping up things sweetly:
Grilled Pound cake with whipped cream and fresh fruit
No dinner party is complete without something sweet. Grilled pound cake topped with some whipped cream and fresh fruit and berries is so simple but impressive and enormously satisfying on a warm summer night. You can prep all of the components ahead of time and then grill the pound cake when you are ready to serve dessert.
A few notes: this works best if you make your pound cake a day or two ahead of time - really! The flavour improves with time and it holds up better on the grill. I whipped this pound cake up using my favourite Dorie Greenspan recipe, but use what works for you. Even better, pick up a good quality poundcake at the store to further simplify your evening.
Ingredients:
1 pound cake, sliced
2 cups whipping cream
1 tsp vanilla extract
A selection of seasonal fruit, washed and sliced if required
1 bunch of mint, leaves separated from the stems
Instructions
Put cold whipping cream and vanilla in a large bowl and using a whisk, hand mixer, or in your stand mixer, whip up the cream until it forms stiff peaks. Cover the bowl and put it in the fridge until you are ready to serve.

Fire up your grill to a medium heat. If you have been using the grill to cook savoury food, don't forget to give it a good scrub. Nobody likes hot dog infused pound cake!

When the grill is warm, place your slices of pound cake on the grill and cook until there are grill marks. Flip and repeat on the other side.

Take the pound cake off of the grill and either top with whipped cream, a handful of fruit and a few mint leaves or set it up for people to help themselves. Serve immediately - this is best when the cake is warm and the cream is cold. Enjoy!
---
This post and its recipes were created with the help of complementary items from the following companies:
Skipper Otto's Community Supported Fishery, where Healthy Moms cardholders get $10 off when they join.
RealFoodToronto.com, where Healthy Moms cardholders get 50% off their first order.
The Healthy Butcher, offering 10% off meat, poultry, and fish.
Yam Chops, offering 10% off their brand name products in store.
The author's opinions are entirely her own.
Related Posts