Getting Active When You Have a Baby or Toddler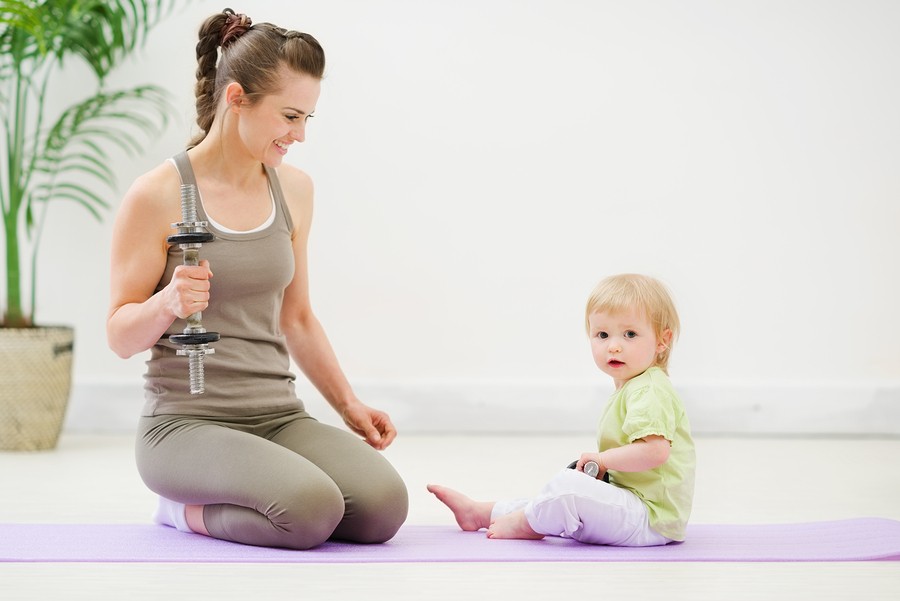 Get in shape and ready for spring and summer with baby and/or toddler in tow
As I sit here and write this, the snow is blowing past my window in the middle of March. I'm sure I am not the only one looking forward to warmer days, green grass and spending more time outdoors. We are coming into what I call a personal trainer's "January." Soon we will have that one really nice warm day when we pull out our shorts, put them on, and (gasp) realize they don't zip up as well as they did last summer, if they zip up at all!!
---
Hibernating can do that to us. Eating comfort foods, sitting more, moving less. No need to panic! There is lots of time to get in shape, trim a few pounds and feel fantastic as spring approaches. But you have to start now! And as a mother of 4 I know some of your greatest limitations are time and the kiddies, so let's combine the two to make this work. Here are some easy ideas to incorporate:
Daily walks. Yes, daily…meaning every day. Put your babe or toddler(s) in the stroller or carrier, and head out for a brisk walk. Make sure to walk at a pace where your heart rate will be elevated enough to burn more calories and also strengthen your heart and lungs. Best case scenario: find a nice steep hill to push the stroller up. Want to up the challenge even further? Do some walking lunges while pushing the stroller.
Kiddie squats. Place your toddler on your back, or the baby in a carrier and squat. 15 repetitions, 3 sets every other day. Inhale as you go down and exhale as you push yourself back up through your heels. Make sure to push back through your hips so your knees are not coming too far forward.
Play "Follow the Toddler." Have you ever been impressed by their never ending energy? Pick an hour of the day and instead of sitting on the floor and playing with your toddler, do what they do…exactly what they do. If he rolls you roll, if he jumps you jump, if he squats you squat…you get the idea. And when he naps, you'll need one too!
Double the stairs. Every time you have to walk up the stairs for something, or someone…do it twice, or take them two at a time – twice.
It can seem daunting to fit in any kind of regular exercise program when you have young children, but with a little resourcefulness and some commitment to the cause (of fitting in last year's clothes) you can make it happen. I believe in you.
---
Elisabeth Parsons is the owner of Core Expectations, where Healthy Moms can receive $50 off (40% off) an initial assessment with Core Expectations (regular price $125). Find out more on their business listing: https://gohealthymoms.com/core-expectations
Related Posts