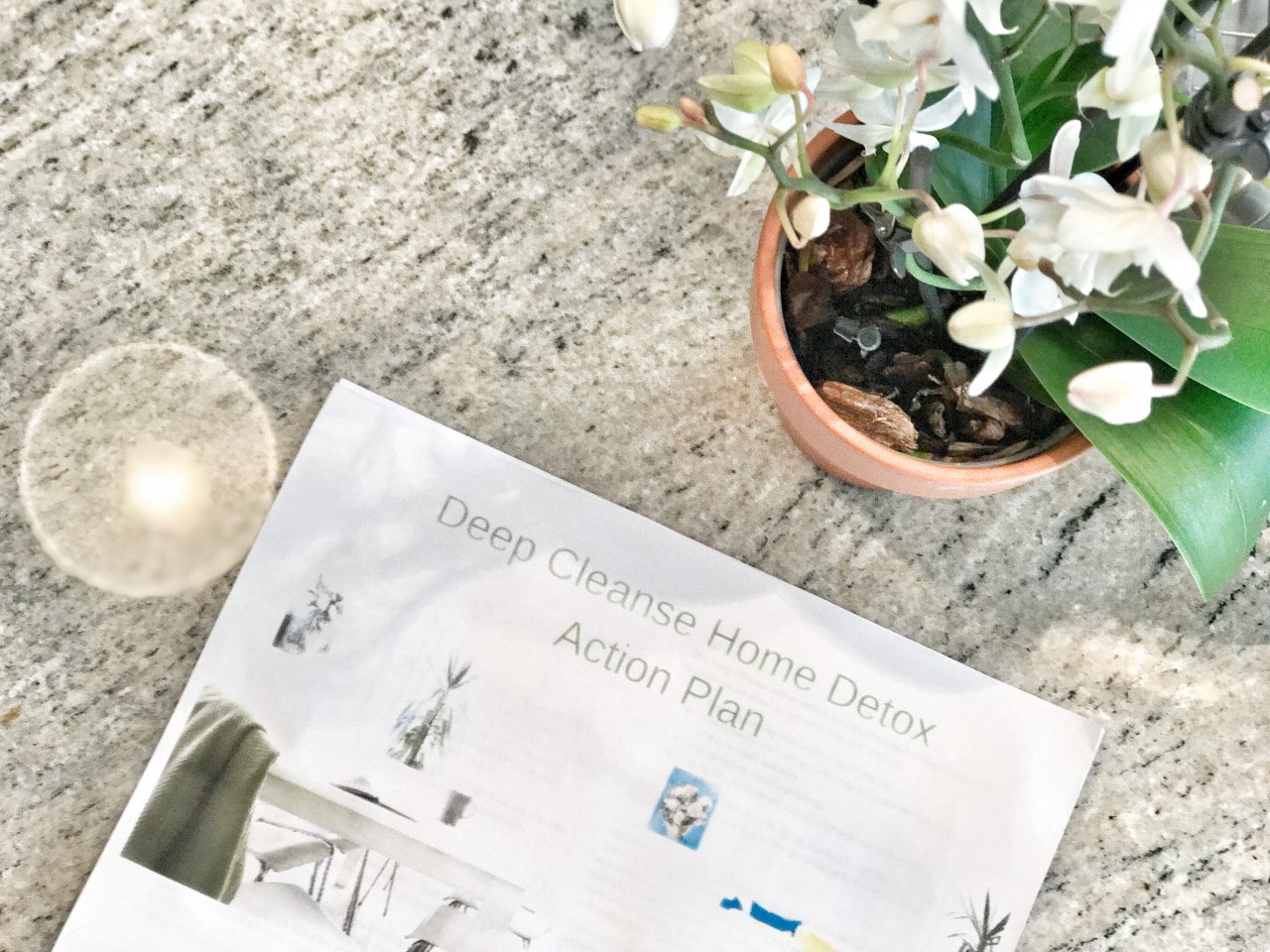 A Healthy Makeover…for your House!
My family and I recently made a big life change: we packed up everything in Toronto and decided to move to the country. Obviously there were a million reasons for this, but when we distilled them, they all boiled down to the same thing: We wanted a better life.
I mean, who doesn't? But we wanted specific things that would lead us there. Fresh air, open spaces and sweeping views, the opportunity to grow some of our own food, a (way) lower mortgage, less pressure, and essentially, a simpler existence.
It was a long, hard road to get here, but we made it—and with a couple of months under our belt, we're finally starting to settle in.
The reality of things seldom reflects the picture you have in your mind, but in this case—in most ways—it has. Even when you realize there are two weeks of winged-midges clouding every spring, regular issues with the septic system, and a few days of unexpected frost after you toiled away in your veggie garden—you know that the pleasure of these unpretentious roadblocks is actually what you came here for in the first place. Never confuse paradise with easy street.
But there is a LOT to change when you're trying to get deep into it. Living well is not just about eating whole foods and breathing fresh lake air. If you want to really clean up your act, you have to commit to changing your whole lifestyle. It's a slow process and I was preparing to tackle it bit by bit over eternity, but when Emma Rohmann from Green at Home reached out to me about working through the process with her, I was pretty readily all ears.
In short, Emma is an Environmental Engineer who spent the better part of her career consulting with big corporations about how to clean up their building processes and develop corporate sustainability strategies. On mat leave, she realized that her own environmental and health needs were closer to home and that understanding what was genuinely a better product versus marketing jargon was incredibly difficult. And so Green at Home was born, to help families sort out what's what.
Her process is both super simple and incredibly complex: she discusses your health goals and concerns, analyzes every single product you use anywhere in your home, and finally, delivers you a comprehensive report with your strategic 'clean house' plan.
Basically, I am a label-idiot. I have no clue how to distinguish ingredients that are toxic from those that are natural, but weird sounding. I don't know if everyone is like this, or if it's just me, but after becoming a mom, I realized that I needed to prioritize topics that are in my skill set or interest range, and leave other things to the experts in order to survive.
Emma was obviously the pro here and this seemed like one of those really-worth-it life-changing opportunities. However, with a capital 'H', there were three major things I was worried about regarding this big change:
1. Cost.
To be clear, I'm not talking about the cost of the service here, which is totally reasonable for the amount of work and time involved. The cost of concern for me was the ongoing purchase prices of buying better products. While I understood that natural ingredients would (and should) cost a bit more, I hate to pay what my husband calls "Hipster Tax."
2. Effectiveness.
With the knowledge that a bunch of scientists can put whatever yucky chemicals they need to into a product, comes the feeling of assurance that the product will, in fact, work. I want a healthier option, but need to know that that option will be safer for my family and will still murder the heck out of my countertop germs.
3. Accessibility.
Living on an island has a lot of perks. Access to a broad range of products is not one of them. Emma's suggested replacements had to be locally accessible or readily available online with free or reasonable shipping fees.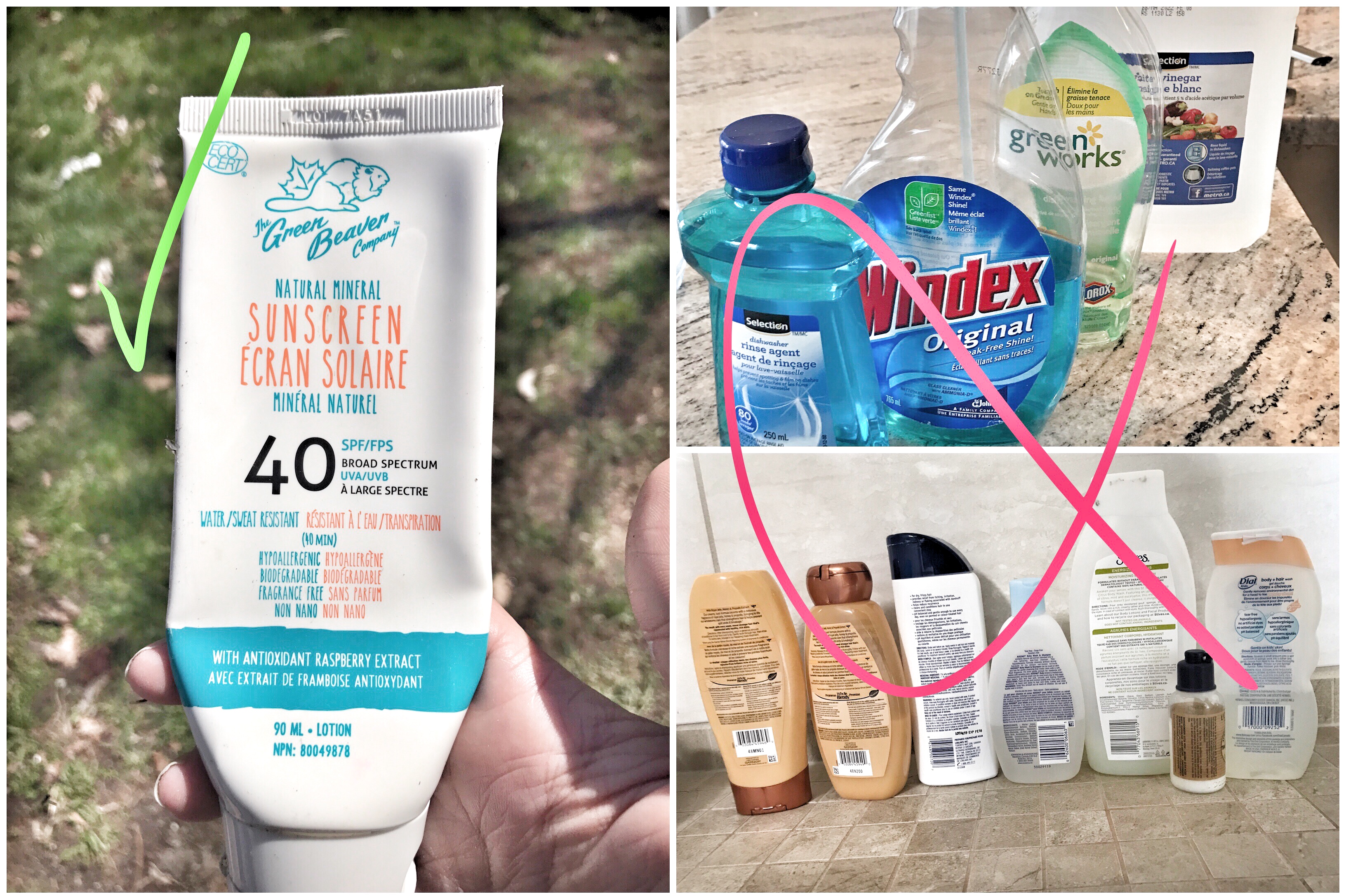 The process didn't take too much of my time, something that's a precious commodity these days. We began with a phone call to chat about my lifestyle, health concerns, and my goals for this project. Did I have headaches or skin issues? What type of hair did I have and what was my makeup regime? What did my two-and-a-half year old come into contact with and how was his health? What type of heating systems did we use? What supermarkets or stores were in the area? I mentioned I had a special concern about using only products that wouldn't affect our septic system (ie. no anti-bacterial products) and she made a note.
Step two was a Skype video call. We would walk around the house and look in all my cupboards, take screencaps of the product labels and ingredients, and talk me through the process. I kind of messed up this step a little because the only time I was free to talk was when the baby was asleep and that meant serious tip-toeing, so Emma told me I could photograph everything and send it all to her. Not über-convenient for Emma, but she was so accommodating and I appreciated it a lot—I don't mess with baby sleep.
I'm a pretty transparent person and it was super interesting to me how personal it felt to discuss my regular processes with someone. Emma is incredibly easy to talk to and extremely non-judgy, but I still felt a little nervous about telling her the intricacies of my daily routines. In the end, though, I sort of felt relieved. It was almost like having gone to confessional.
Finally came the results, in the form of a Deep Cleanse Home Detox Action Plan that arrived in my inbox. She had organized the document into the items that were green-lighted (Keep Using), those that were not great, but not detrimental (Finish Up, Then Replace), and finally, those that were completely contrary to my health goals (Replace ASAP.) This last list was LONG. I knew it would be. I also knew that if I were really committed to a healthier life for the people I loved, it would be totally worth it.
Amazingly, part of the package is three months of follow up help from Emma about tweaks to the plan, changes in our lives that require different solutions, or alternative product options. And for clueless people like me, who need help indefinitely, there is a Facebook support group for all of my future questions.
And my favourite part, as ever, is that both Green at Home clients and Healthy Moms Discount Cardholders get special pricing at various locations that offer basically all of the products Emma suggested (to me at least.) The two places that covered a large majority of products I bought from my 'replace now' list had some sweet deals—Green Beaver and Well.ca
Like anything worth doing, it's a process, so the true outcomes of this project will unfold over time, but I know that Emma will be here to help out if we need her. I also know that every journey starts with just one step and engaging Green at Home to help clean up my act was simply the next big step on my big life adventure.
---
Healthy Moms Cardholders receive 20% off Naturally Healthy Baby or Green Home Signature Packages. Find out more here.
The author of this article was provided a complimentary home assessment by Green at Home. All opinions are her own.
Related Posts