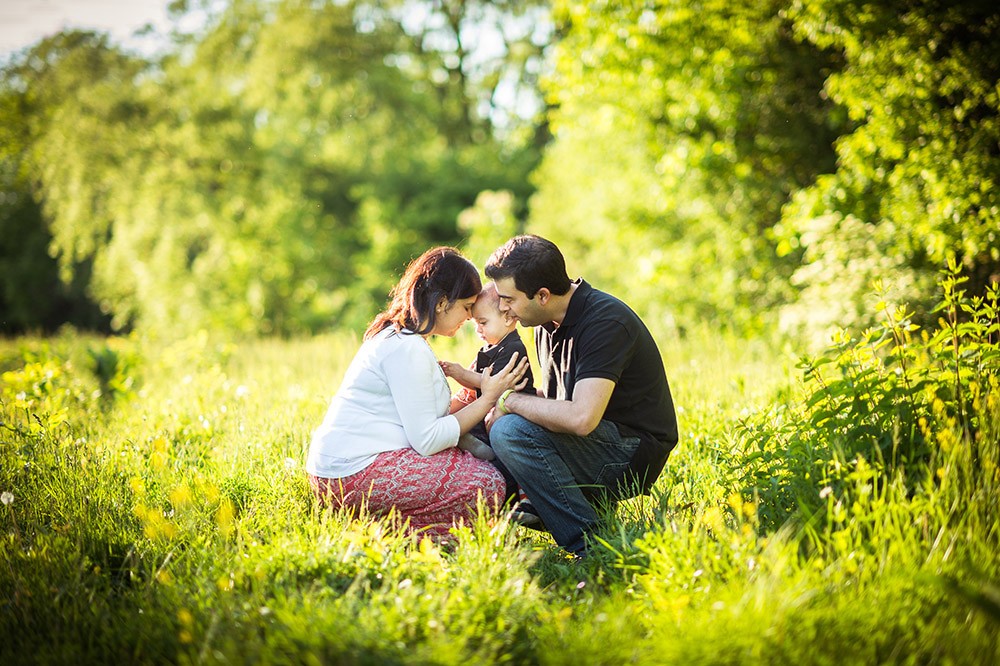 "My life is beautiful."
This is the caption my childhood friend, Ita Waghray (née Saha), wrote when she posted the photo above on her Facebook account in May 2014. For many readers, Ita was simply offering a quick snapshot of a happy moment with her family. Yet the reality was that she was preparing for the fight of her life.
At 33 years old, Ita was diagnosed with stage IV ovarian cancer. She had asked my husband, a photographer, to take a photo of her family so that she could print and arm herself with it as she underwent surgery and treatments to beat the disease. Ita knew the road ahead would be painful and difficult, but was willing to do whatever she had to to be there for her husband and child. She kept the photo close as a steady reminder of what she was fighting for.
"Why did this happen?" Ita asked me in the early days of her diagnosis.
I didn't have an answer. Ita was young and healthy, and didn't fit the demographics of women who are at a greater risk. According to Ovarian Cancer Canada, all women are at risk for ovarian cancer, but a woman is at a higher risk if:
She is over 50 years of age

Her family has a history of ovarian, breast, endometrial, or colorectal cancer

She is of Ashkenazi Jewish descent

She has a hereditary predisposition, such as the BRCA gene mutation, which is associated with ovarian cancer
The more you learn about ovarian cancer, the more alarming the statistics are.
Five Canadian women are lost to ovarian cancer every day and 2,800 will be diagnosed this year alone. More than half of the women diagnosed are not expected to live past five years.
For two and a half years, Ita battled the disease with strength, dignity, courage and grace. She did not dissolve into bitterness, despair or regret, and instead cherished every day she had and was truly thankful for the life she had been given.
Ita also never gave up hope. Hope that a cure would be found. She passed away in November 2016.
This September, in honour of Ita and Ovarian Cancer Awareness Month, Ita's family and friends joined thousands of others in more than 35 communities across the country for the Ovarian Cancer Canada Walk of Hope.
"The Walk is a special opportunity for women and families who have been affected by ovarian cancer to come together to support one another, empower one another and demand better," says Elisabeth Baugh, Chief Executive Officer, Ovarian Cancer Canada. "Outcomes for women with this disease haven't seen significant improvement in 50 years, and as a community we are determined to challenge the status quo by banding together and fundraising for much-needed change."
It was moving to be surrounded by those who loved Ita and walk in solidarity with other families also sadly touched by the disease. Many groups of people wore T-shirts explaining their purpose for participating – "I'm walking for my mother…I'm walking for my grandmother…for my sister…my aunt…my niece…my cousin…my daughter…my wife…my friend…myself."
There is no reliable screening test for ovarian cancer and no vaccine to prevent it. Furthermore, the signs and symptoms of ovarian cancer are easy to overlook with bloating, difficulty eating, abdominal discomfort and change in urinary habits being more of the most common ones. If you experience any new symptoms for three weeks or longer, speak with your doctor about your concerns. Be your own advocate.
I have to admit that I struggled over whether or not to write this blog post because I never wanted my friend, who was so full of life, to be defined by the sickness that took hers away. I wish I could accurately describe for you Ita's beauty and light, but my words will always fall short. She was intelligent, kind, thoughtful, creative, tenacious, generous and sweet. She was outgoing, ambitious, fearless, competitive, independent, funny, charming and clever. Simple and peaceful things captivated her. Her laugh was infectious. She drew everyone in with her warmth. She knew every story you ever told her by heart. She valued her family, adored her husband and loved her son more than anything else on this earth.
To learn more and join the fight against ovarian cancer, visit www.ovariancanada.org.