Hot School Lunch Ideas For Cold Days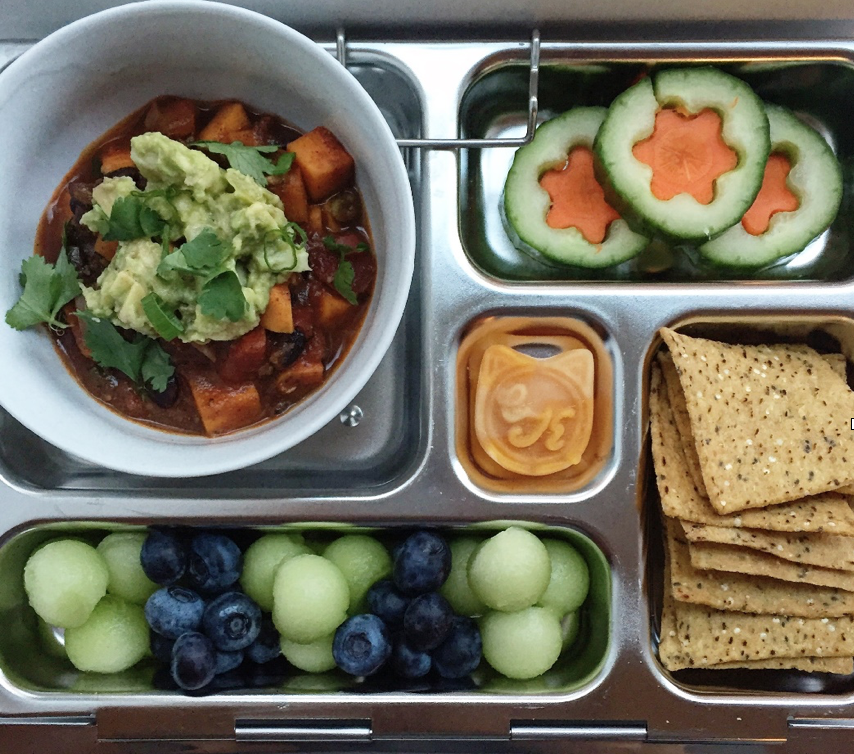 Now that December is upon us and the warm days of fall and summer are but a distant memory, I have started to change up what I pack my kids for lunch for school. My kids have about 35 minutes of outdoor play following lunch and when the weather is especially bitter, I like to pack them hot meals to warm them up before heading out into the cold.
In order to keep food hot, important not only because it is tasty but also for food safety, I pack things like soups and chillies in a thermos that I preheat with hot water while I am heating up food on the stove. Thin liquids – like broths or hot tea, cider and milk – can be easily packed in insulated drinking bottles. In both cases, I have found that gear that is not designed for kids is most effective at keeping food hot. We have a pair of very ordinary stainless steel thermoses that keep food nice and hot and also nice and cold in the warm weather. Here are some ideas to help inspire your lunch packing this winter.
5 Hot Lunches For Cold Days
1. Sweet potato and black bean chili with a scoop of guacamole, nachos for dipping and some fruit, vegetables and a little gummy for a treat.
Leftovers make great school lunches all year round and whenever I make chili, I always make a bit extra to heat up for school the following day. Chili is packed in a thermos and always packed with some nachos for scooping.
2. Tomato and pasta soup, bunny-shaped egg, fruit and some date and cacao energy balls
Tomato soup is always a hit in my house and quick and easy to whip up at the end of a busy day from a few simple ingredients. I add some little pasta – this is quinoa pasta here – and pack it up in a thermos that I have pre-warmed with hot water. Molded eggs are simple to make with egg molds that can be purchased online or at Japanese shops around the city for just a few dollars. Eggs just need to be hardboiled, peeled while hot and then placed into the mold for about 10 minutes. They are always a welcome surprise and never go uneaten the way regular eggs might be!
3. Dumplings in broth with vegetables and fruit on the side
Dumplings are a go to in our house because they are delicious and because they are a great way of using up odds and ends in the fridge. If you don't want to make them, there are also lots of delicious frozen dumplings available at the supermarket and at the dumpling houses in Chinatown. I pack steamed dumplings that are eaten at room temperature during warmer months alongside of a thermos of hot broth (with some wilted greens and carrots – really whatever I have on hand) on cold days. Dumplings should not be packed in the thermos with the broth because they will continue to cook and fall apart.
4. Tomato and squash soup with grilled cheese croutons
Tomato soup and grilled cheese is a classic combination that never disappoints! To change things up a bit and to use some of the gorgeous late fall produce that is available at this time of year, I make butternut squash and tomato soup and pack it with a grilled cheese sandwich that I cut into little croutons. The soup is packed in a thermos and the croutons are packed in the kids' lunch boxes.
5. Miso soup, quesadilla and veggies
My kids love miso soup and it is simple to whip of a bottle of it in the mornings before school. Defying tradition, I put a few teaspoons of miso paste in the bottom of an insulated bottle, a few green onion slices and top it with boiling water and give it a good shake. I always write on the bottle using a chalk marker to let my kids know what is inside. We use these insulated bottles for hot and cold drinks and want to be sure that they don't take big gulp expecting a smoothie but end up with mouthful of boiling hot soup. I have packed the soup here with a quesadilla which will be warm by lunchtime, some fruit and vegetables.
I hope this gives you some good ideas to kick off winter lunch packing. If you are looking for more ideas, I share my kids' lunch ideas on Instagram every day - you can check me out @avivawittenberg.
Related Posts