How To Enjoy A Well-Rested Holiday Season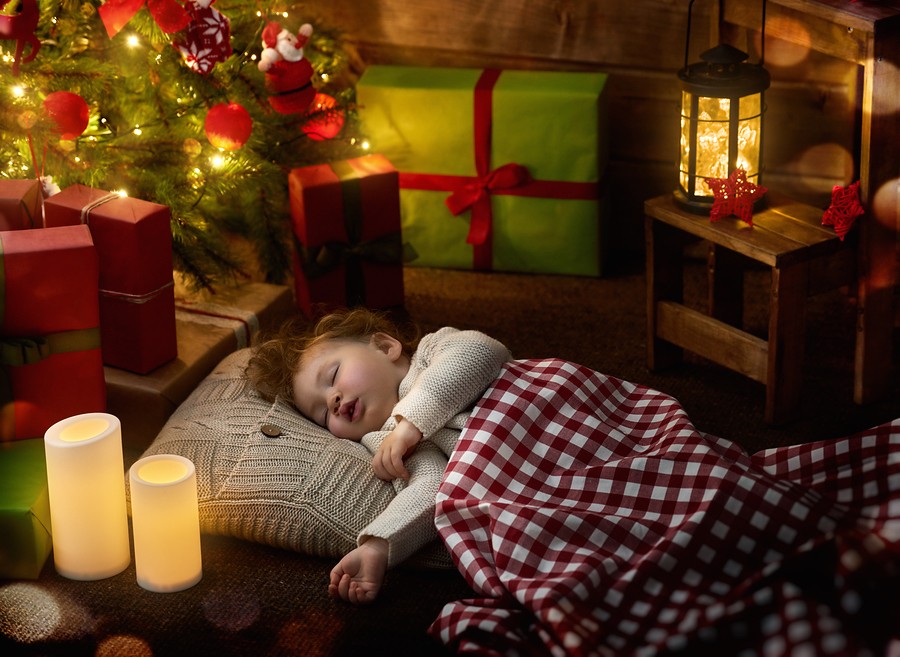 Christmas is in two days? What!? The weeks leading up to the holidays can be filled with more sugar, more parties, and more excitement for your children, and that can lead to some serious holiday stress, not just for them, but for you, too! The challenge to keep from ruining your little one's sleep, while still managing to have an enjoyable time celebrating is a big one, but don't worry–it's possible.
Here are a few tips to make sure your child is sleeping when Santa comes down the chimney:
ROUTINES
Try to stick to your normal routines over the holidays. Naps are essential to avoid temper tantrums and meltdowns. Put your little ones down within 30 minutes of their normal bedtime. As much as Grandma wants to keep playing with the kids, you have to put your foot down and make sure they get the sleep they need. Overtired babies and children are not fun, so it's best to make sure they get their sleep even when family is around.
NAPPING ON THE GO
The first nap of the day sets the tone for the rest of the day. Try to get that first nap at home, then off you go. It is completely fine for your little one to have a snooze in the stroller or in the car on the way home. If the nap that day was a little off, always remember to put your little one down for an earlier bedtime.
TRAVEL
I highly recommend using a carrier or stroller when battling the craziness of the airport. The wait times are tiring and it can be a long day for children. If possible (it's not easy because it is loud), have your baby sleep while you wait if they are in desperate need of some sleep. An overtired baby or child on an airplane is not easy, so it's best to get a little snooze in before you fly.
STAYING LATE
Bring your pack 'n' play and have your child sleep wherever you go. Make sure the room is dark, do your regular routines and bring their favourite snuggly buddy. A white noise machine is a great way to muffle the sounds of everyone talking and laughing with their cups of egg nog. Once you are ready to go home, make sure to say your goodbyes before you scoop up your little ones and transfer them to their car seat. You don't want Auntie J's kisses waking your child. If they wake up when you get home, keep the lights low and, depending on your child, you may or may not have to repeat part of their bedtime routine.
COOKIES, GINGERBREAD, CHOCOLATES- OH MY!
All that sugar is tempting, but can wreak havoc on your little one's sleep. Limit the amount of sugar that is given to them at least two hours before bedtime, or they will be bouncing off the walls and not want to go to sleep.
The holiday season is busy and can feel overwhelming for a lot of people. Try not to over-schedule and do the best you can. Remember to relax and enjoy this time. It is truly one of the best times of the year and spending time with family is what it is all about.
Happy Holidays everyone, and I wish you all a well-rested and dreamy 2017.
---
Lisa Kvapil is the owner of WeeSleep Toronto, a sleep consulting agency that aims to help everyone in your house sleep better. Healthy Moms Toronto Discount Cardholder receive a free 15 minute consult with Lisa, as well as 15% off Rescue Me and Toddler sleep packages. Find out more in their listing: https://gohealthymoms.com/weesleep

Related Posts