How to "Work Out" With Your Kids at Every Stage of Life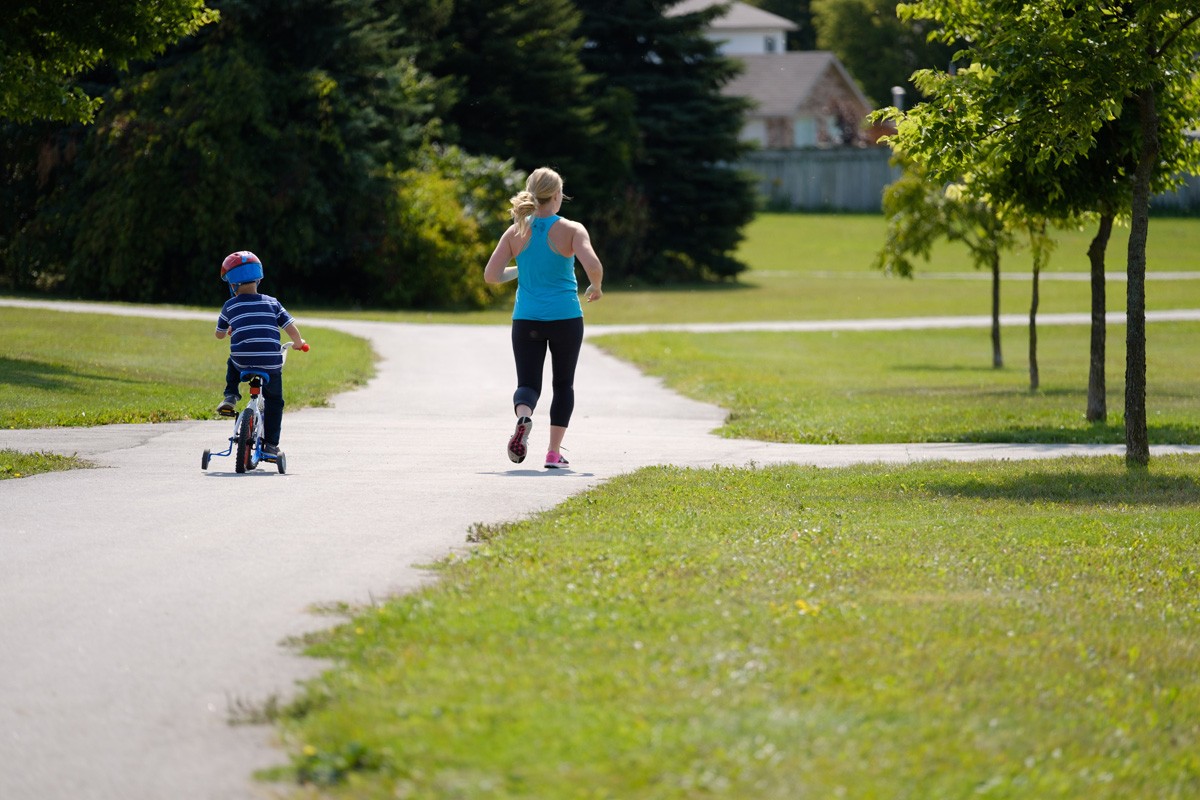 I often get asked how to include kids in a workout. What kind of things do I do with my own kids to get them involved? What do they DO when I am working out?
If I can be completely honest for a sec, I prefer to work out on my own when I can and I have occasionally been known to give my kids an iPad just to get a few minutes of precious sweaty bliss to myself. Just being honest here…
However, I do believe it's important to teach your kids the value of physical activity and I have developed a few strategies (not involving an iPad) over the years to "work out" with my own kids.
Now before I take you through these ideas, please keep a few things in mind:
You'll notice that "Work Out" is in quotations. That is because there is a very good chance that this may not end up being an actual workout for YOU. It will however get you moving, get your kids moving and, most importantly, you'll be leading by example.

Be prepared to be flexible. Your baby could start crying at any moment or your toddler may insist on playing with their trucks instead. Anything could happen. Go into this with an open mind. But I already know you can do that since you are a mom.
Ok now that you are fully prepared, let's dive into the "Work Out" ideas!
Working out with your infant*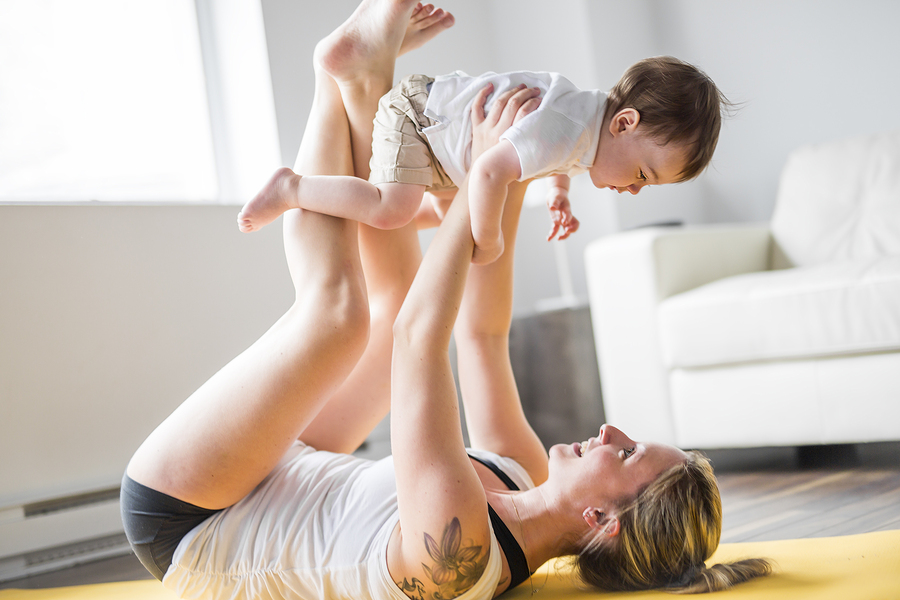 1. Let baby be your barbell (well, kind of)
Hold your baby while you do squats and lunges. Give your little one a kiss between each push up and do your planks while they lay on the mat with you. Of course if they are sleeping, just let them be and you can do these moves with your own bodyweight or some dumbbells. The added bonus to working out with your baby is that it usually tires them out and they will be ready for nap time after all that stimulation.
2. Take a hike – quite literally
I never understood why strollers were so expensive until I actually had my own children. Then I quickly understood that they were worth every penny, since walking or jogging are the single best way to get some physical activity when you have a baby (not to mention get a cranky baby to fall asleep). Grab a friend or go solo and make sure you dress your little one for the weather. In cooler weather, you can head to an indoor walking track, or even the mall for your trek
3. Mom and baby class
These classes saved my sanity when I was at home with an infant, which is why I still teach my own class once a week in my local community. These classes are great for learning about how to train your postpartum body. They are also amazing places to socialize and meet other moms who really get your life right now. Look for a class that is taught by a Certified Personal Trainer who specializes in postpartum fitness and has knowledge of safe and functional training for your postpartum body.
* Please be sure to wait until your healthcare provider gives you the green light to start exercise.
*When exercising with infants, make sure you are protecting their neck and heads. Using a baby carrier where baby is well supported can also be a great option.
Working out with your preschooler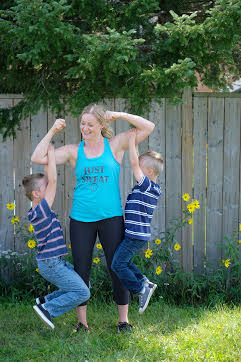 1. Give them their own special dumbbells
My kids would regularly want to "participate" when I was doing my workouts at home. After watching them attempt and fail to pick up some heavy dumbbells, I got them their own 1lb weights so they could participate. It's the cutest thing ever, they think it's fun and you get to do your workout. Just be sure to watch out for them as you're doing big movements…they are small and sneaky little creatures!
2. Dance party
This is by far my favourite way to get active with my kids. Not only is it a ton of fun, it's also a great way for them to relieve their stress and anxiety. Let them pick the songs (I know, I know, I hate the Gummi Bear song too, but try to have an open mind) and just bust a move with them. There doesn't need to be any structure here. The idea is just to move, be silly, and feel the benefits of the endorphins that follow.
3. Hit the mat
Yoga is great for adults and kids for alleviating anxiety and managing stress. Your preschooler doesn't care about any of that, however. They just want it to be fun. Check out Youtube channel Cosmic Yoga (https://www.youtube.com/watch?v=xlg052EKMtk) for a series of fun classes that combine movement, breathing and fun adventures like a bear hunt or even a Frozen-themed session. Or you can just freestyle your favourite moves together.
Working out with your school-ager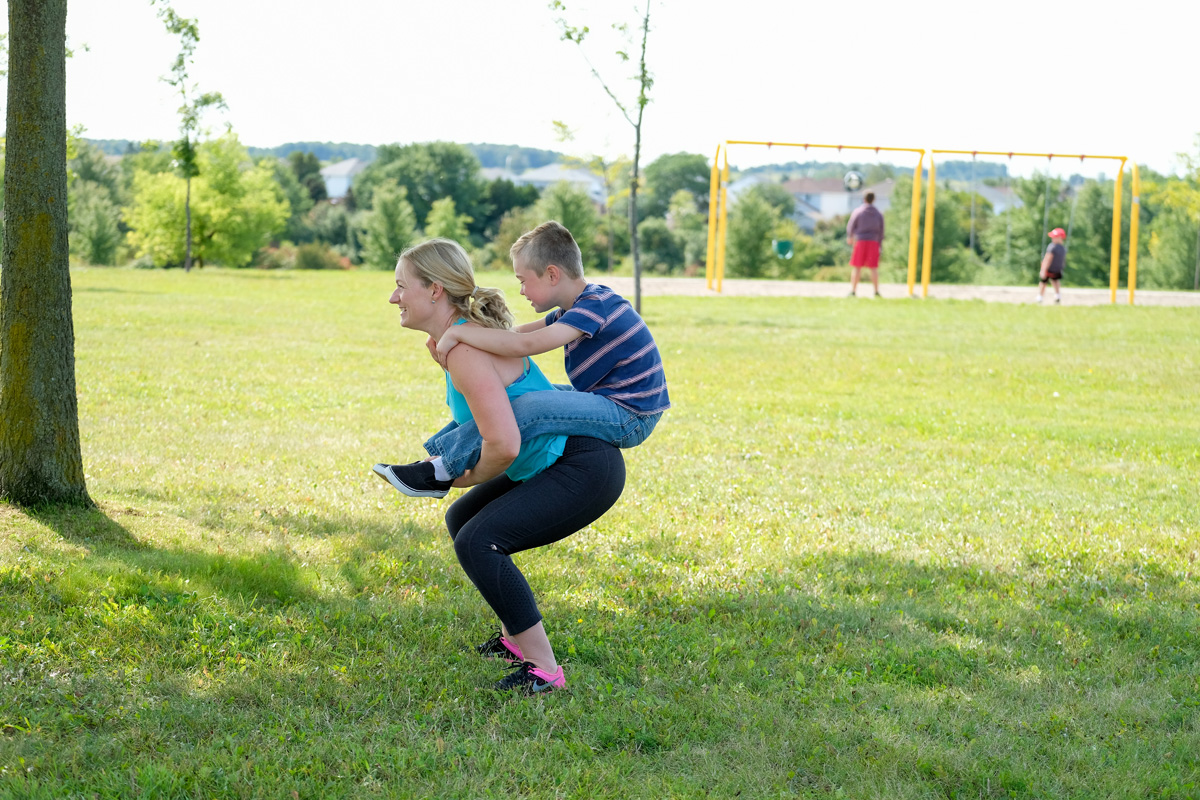 1. Deck of cards workout
This one is a ton of fun as long as you don't take yourself too seriously and is great for a rainy or snowy day when you can't get outside. Here's how you play: grab a deck of cards and assign an exercise to each suit. When you draw a card, you do the accompanying exercise for the number of reps on the card. Click HERE for a free printable and instructions, grab a deck of cards and have fun.
2. Outdoor scavenger hunt
While walking works really well for your infant, your school-ager will most likely be bored out of their mind. Instead of a walk, take them on a travelling Scavenger Hunt. If you can, head to some local trails and have them search for spiders, pine cones and animal tracks. Check out this free printable from makeandtakes.com to get you started.
3. Go for a ride
When you were a kid it was ALL about the bike. I've learned with my own kids that this still proves to be true. They love to bike! I've quickly followed suit and jumped on my own bike with them. Give this a go with your kids today. You can also walk or jog along side them while they ride. Your kids will love the challenge of trying to stay ahead of you!
In the colder temps, sledding will do the trick too. Find a big hill, ride down and get your heart pumping as you climb back up. Try to do as many rides as you can in 30 minutes. It's fun but also a legit workout too!
As parents we want our kids to grow up happy and healthy. We want them to love exercise and fitness because we know how good it is for them.
As with anything in parenting, it's all about leading by example. Kids will always model the behavior they see. The more the kids see their parents moving and having fun, the more likely they are to do it too. Don't make it too structured or stressful. Just move and play together in any way that works for you.
For your own "mama time" workouts, join my FREE 5 Days to Fit Jumpstart Program today. Discover the secret of how to get strong and sculpted in less than 30 minutes a day (without leaving your own living room).
https://jumpstart.myfitcoach.ca/5-day
---
Kim Holmes is a personal coach and the owner of My Fit Coach, where Healthy Moms cardholders can receive 10% off fitness packages and nutrition services. To find out more, check out her listing here: https://gohealthymoms.com/my-fit-coach
Related Posts