How I Made a Career Pivot During Mat Leave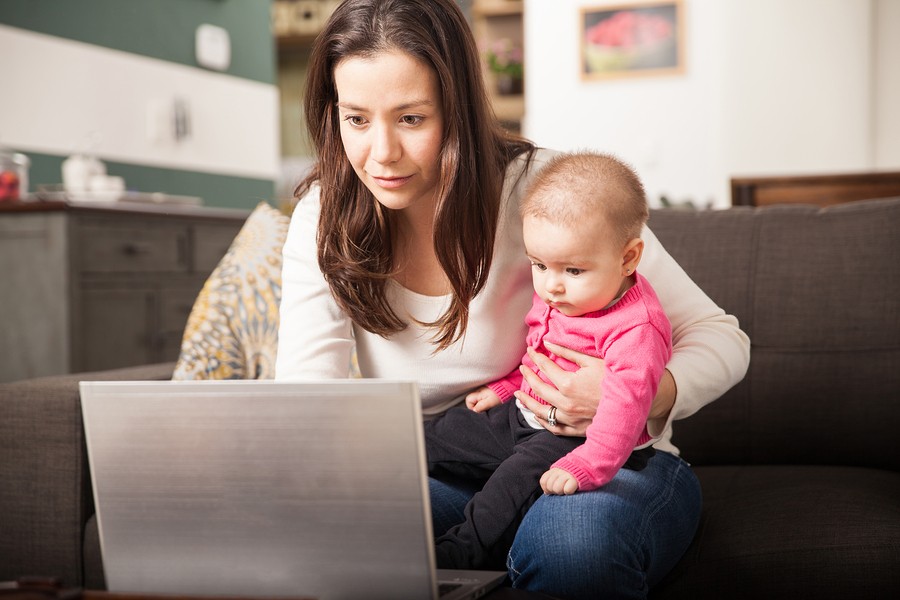 I have known many new moms who were excited-but-nervous for their return to the workforce, at the end of their maternity leave. These women love where they work, what they do, and what it means to be back doing their job. On the other hand, I have known just as many moms who truly dreaded the idea of returning to work, and spent the last few months of their leave trying to figure out an alternative.
In fact, I happen to be one of the latter. Granted, the job I was working at wasn't exactly where I'd dreamed of spending the rest of my life. For anyone who knows me well, working in retail is kind of a ridiculous scenario to imagine me in. I don't suffer fools on the best of days, and the number of fools one encounters working in retail is…well, it's astounding.
I was desperate for change.
I wasn't exactly looking for it when it happened, but the moment an opportunity arose, I took it and ran with it. For me, that involved starting a blog where I could talk about my postpartum depression, my struggles with breastfeeding, and share my dark humour with the world during my maternity leave. I started researching online publications where I could submit my silly lists about being a mom, starting with unpaid publications, and gradually getting the nerve to submit to paid websites.
By the time my maternity leave was over, I had managed to score a small content writing job with an ad agency that would replace my part-time retail income, while I worked on improving my writing so that I could perhaps make even more money. It was a gamble, but three years have gone by, and I am making a full-time income as a writer and editor.
Believe it or not, you can do this too. Not necessarily quit your job to become a full-time freelance writer, but you can pivot.
You might want to spend more time at home with your baby while they're young, or be home for your older kids at lunch time or after school. A full-time office job can leave you with very little time or energy at the end of each day, and wasting that time and energy on a job you're not passionate about may have you scrambling for an alternative. On top of that, how much money will you actually be taking home, after all the money you end up spending on daycare?
If you're in panic mode right now for these very reasons, there are some viable alternatives. Even if you've been on maternity leave before, for an older child, many things have changed just in the past two to three years. There are many part-time side gigs that allow you to work from home, either on your laptop or your phone, that require minimal experience at the entry level. A quick Google search will reveal all kinds of ideas.
Beyond the laptop hustle, you may be able to capitalitze on a passion you have and start your own business. Cupcakes and jewellery aren't the only options for moms to make, and beyond that, there are services you may be able to offer that are in high demand.
When my freelance writing bottomed out, after quitting a staff writing job where I was treated poorly, I applied to be a social media manager with a digital services company. The hours were flexible and allowed me to pursue what I wanted (writing for bigger publications) and be home after school for my daughter.
It's taken a lot of hard work, and there are ups and downs, but I wouldn't trade the old job for the new ever. If you want it, I promise you can find a way to do it.
Related Posts