Make Ahead Breakfast Ideas to Save You Time in the Morning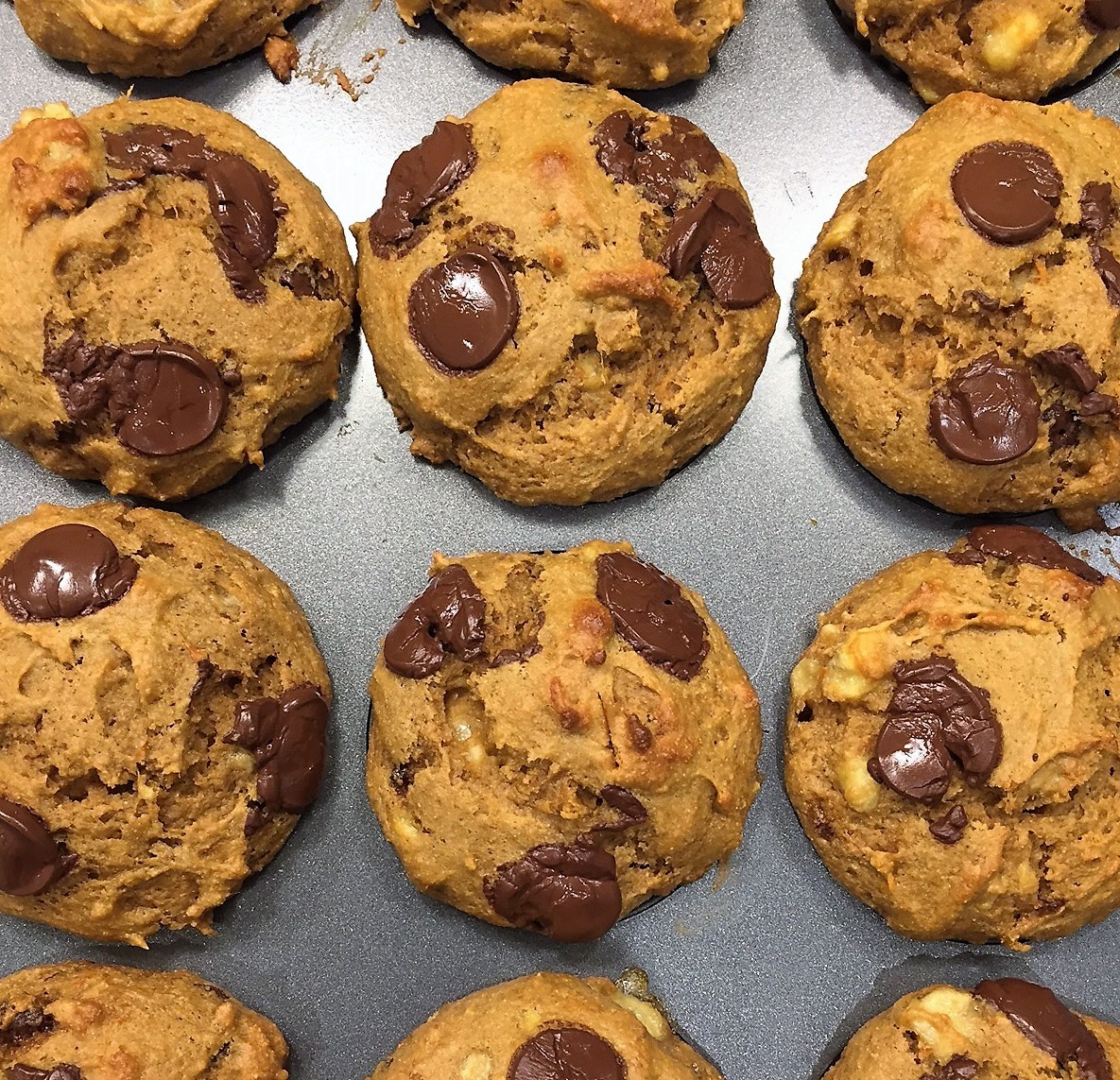 If your house is anything like mine, school day mornings can be a bit frantic with all of us rushing to get out the door and to school before the bell rings. The rush is only further compromised in the winter when my kids have to get dressed in their snowsuits and mysteriously start moving in slow motion!! Breakfast has to be fast and easy, even easy enough for my 11 year old to make herself and in order avoid getting stuck in a cereal and milk rut, I have a list of go-to recipes I make and freeze on the weekend so that we don't have to compromise on the quality and deliciousness of our first meal of the day. Here are some of my favourites:
Banana Bread Waffles with Fruit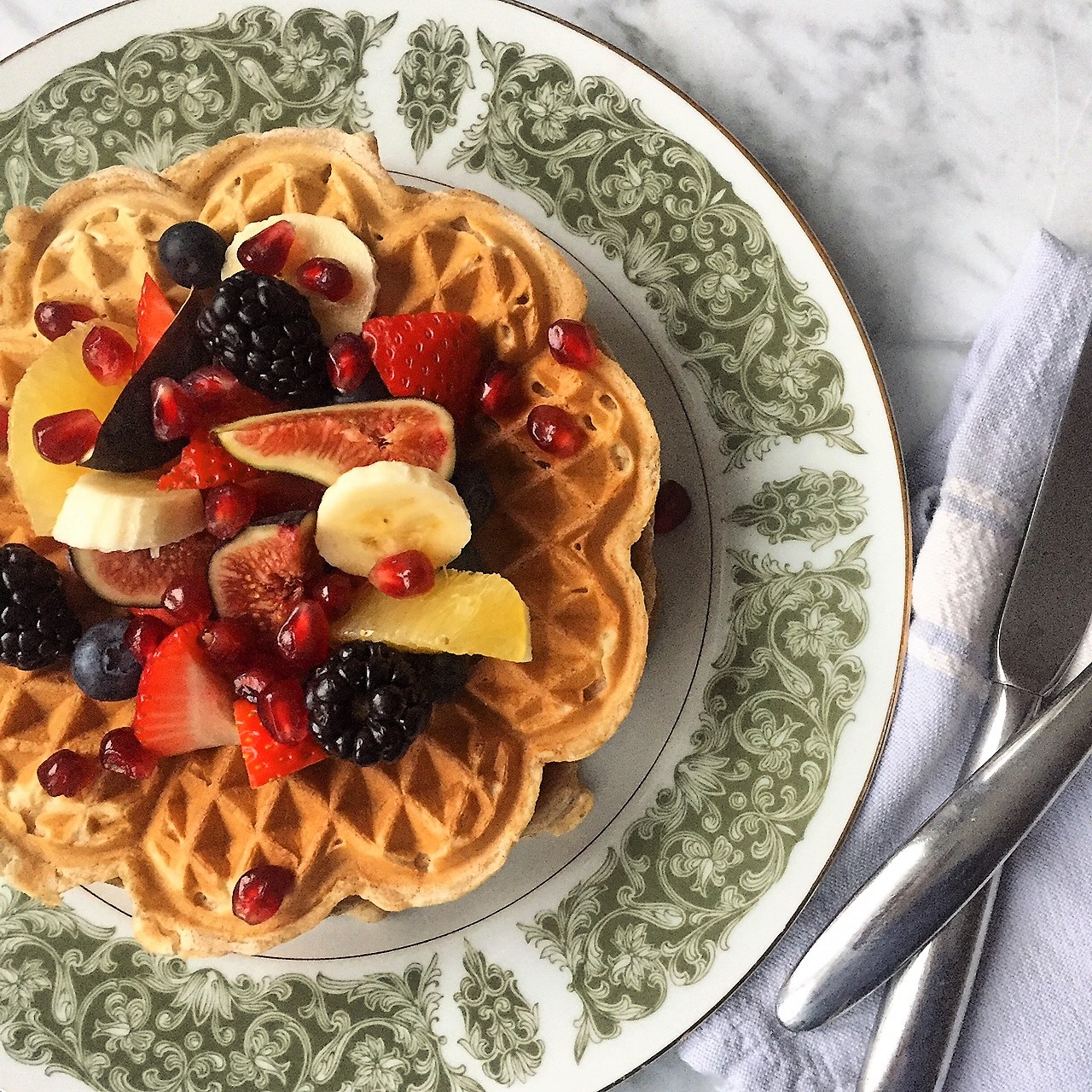 Hauling out the waffle iron on a Monday morning might be a bit ambitious, but taking a waffle out of your freezer and popping it into the toaster is absolutely achievable and definitely delicious. These waffles are sweetened with a ripe banana and will be sure to bring a smile to your breakfast table. The batter is equally delicious made up into pancakes which can also be frozen and then warmed up for breakfast.
Ingredients
1 ripe banana
2 pitted medjool dates
1 egg or egg substitute
2 Tbsp flavourless oil
1 tsp vanilla extract
¾ cup milk or non-dairy milk substitute
1 cup whole wheat flour
¾ tsp baking soda ½ tsp cinnamon
Directions
1. Put all of the ingredients in the blender and run at medium speed until well blended
2. Follow the directions that accompanied your waffle iron to make the waffles. When they are cooked, allow them to cool on a cooling rack and then transfer to a zip top bag and freeze.
3. To serve, remove the desired number of waffles and toast in your toaster. Top with some fresh fruit - berries just need a rinse and blueberries and raspberries don't even need to be sliced – and enjoy!
Egg and mixed vegetable mini frittatas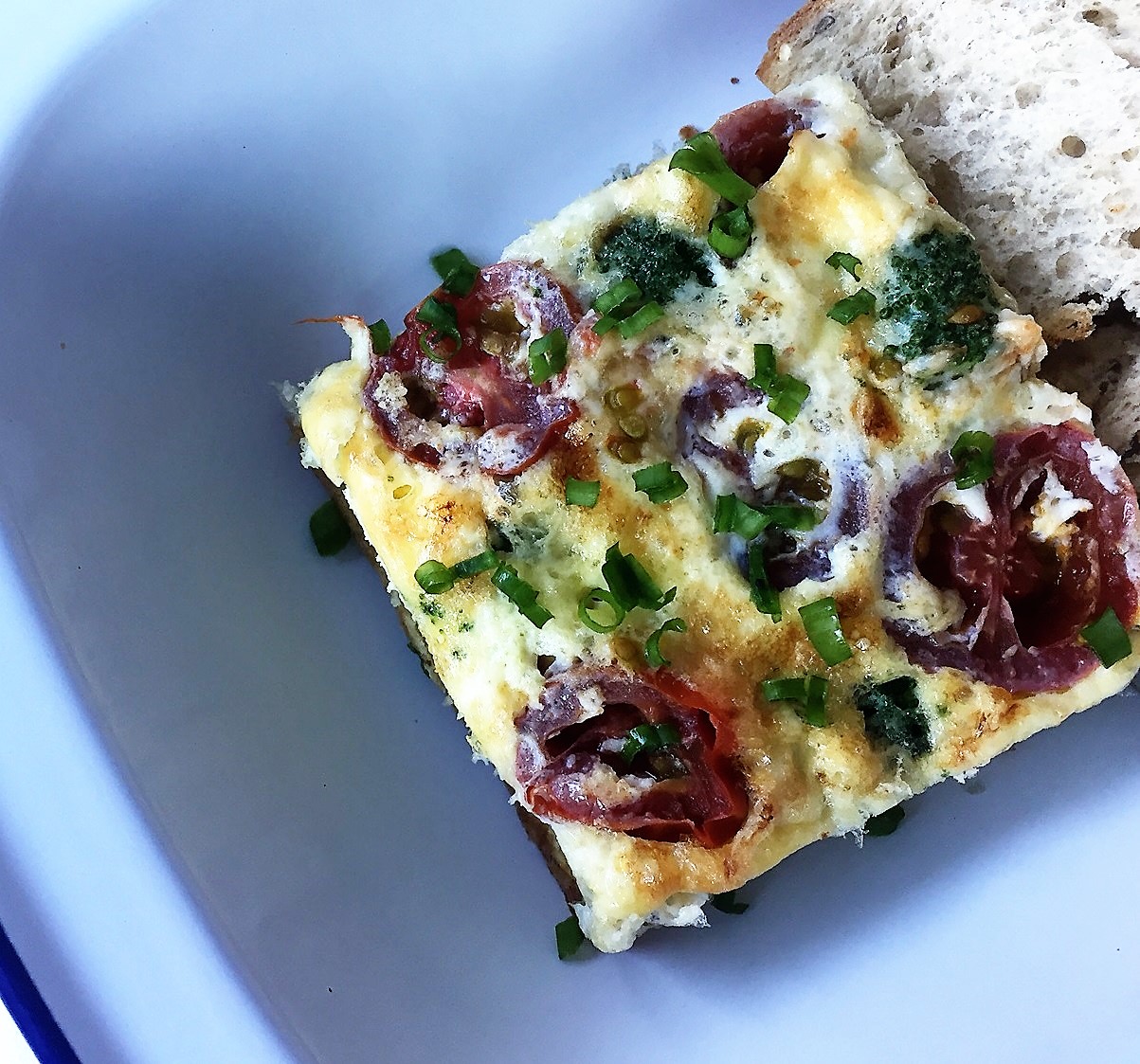 Frittatas freeze surprisingly well and can be quickly warmed up – or even eaten cold - with some toast for breakfast. This recipe makes an 8x10 pan of frittata that can be cut up into squares and then frozen in portions for breakfast. Use whichever vegetables are in season and that your family likes. To keep the frittata from drying out and to keep it cooking evenly, you will need to bake it in a bain marie: your 8x10 pan will sit in a larger pan - a 9x12 or whatever you have on hand – that is filled with water.
Ingredients
3 cups of mixed vegetables, diced - I like cherry tomatoes and broccoli or mushrooms and spinach but use whatever you love.
12 eggs, whisked with 1 tsp salt and a good grind of pepper
2 Tbsp olive oil
1 kettle of boiling water
Directions
1. Preheat your oven to 350F
2. Line the bottom of an 8x10 pan with parchment paper that extends up two opposites ends of the pan. This will make removing and portioning out the frittata much easier when it is cooked.
3. Brush the bottom and sides of the pan with olive oil. Place the 8x10 pan into a 9x12 (or larger) pan.
4. Evenly distribute your vegetables on the bottom of the pan and then pour the egg mixture on top.
5. Place the pans (the 8x10 that is nested in the 9x12) on your oven rack and very carefully fill the space between the two pans with boiling water so that it comes about halfway up the 8x10 pan. Slide the rack back in, close the oven door and bake for about 25 minutes or until the centre is set.
6. Carefully remove the smaller pan from the oven – let the larger pan cool off before attempting to remove it from the oven. It will still have lots of boiling water in it and will be safer to move once it is cool. Set the frittata aside to cool down before slicing it into portions, wrapping well and freezing it for later use.
7. Serving: For best results, allow the frittata to defrost in the fridge overnight and then warm it up in a 200F oven. If using a microwave, reheat it at low power to avoid turning your frittata into rubber!
Sweet potato and banana muffins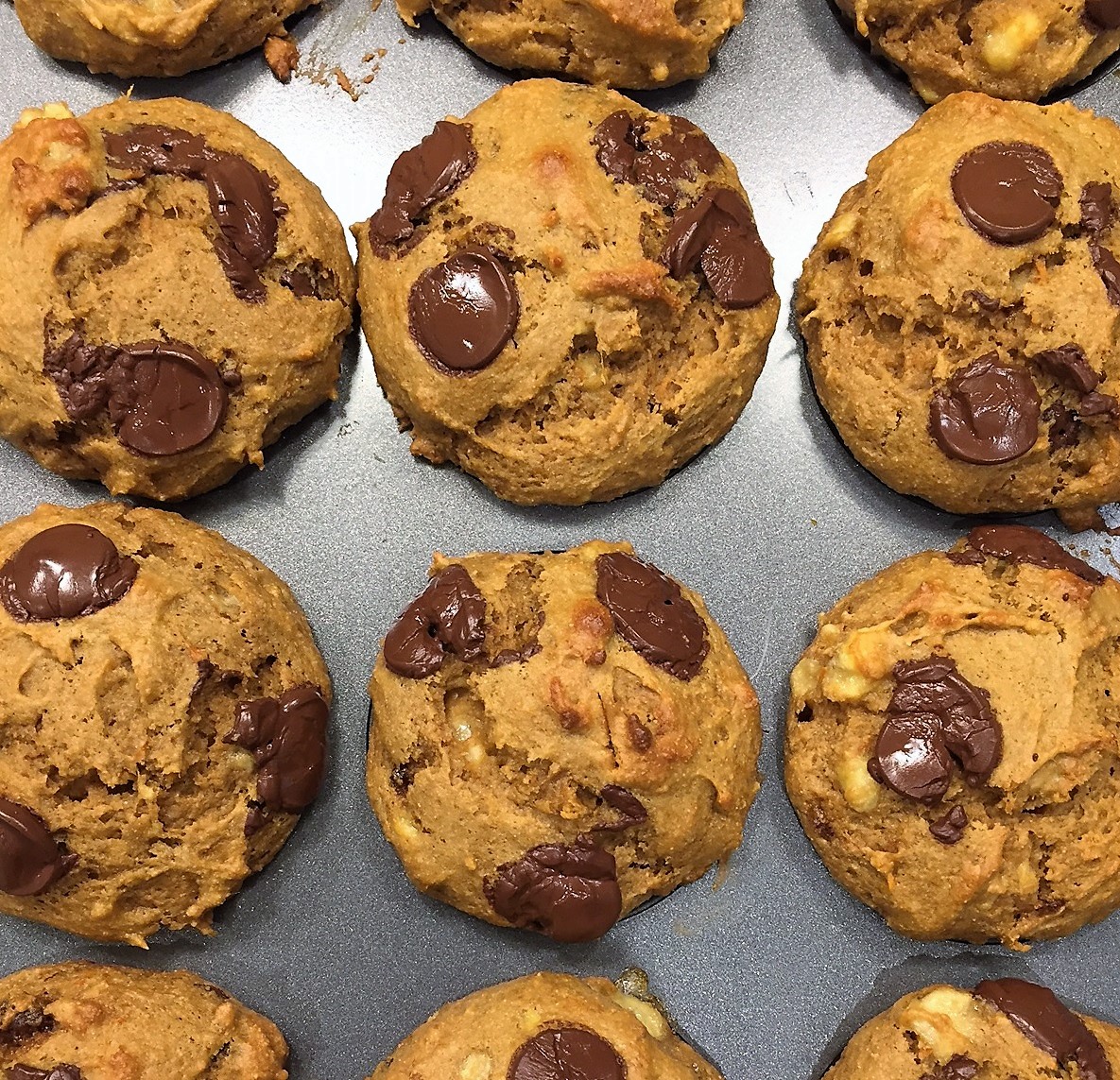 Roast an extra sweet potato for dinner and mash it up to fold into these delicious muffins! The sweet potato adds a natural sweetness - if you have an especially sweet sweet potato on hand, you could forego the sugar in the recipe entirely – and a depth of flavour. These are a great anytime muffin but are especially good at the breakfast table because who doesn't like chocolate for breakfast?!
Dry ingredients
2 cups whole wheat flour
1.5 tsp baking powder
.5 tsp baking soda
1 tsp salt
2 tsp cinnamon
Wet ingredients
1 cup roasted sweet potato purée (if my potato yields an extra 1/4 cup I add it into the bowl too - this recipe is pretty forgiving. Haven't roasted a sweet potato before? It is simple – preheat oven to 375F and roast for 45 mins or until the potato is nice and soft in the centre)
4 mashed ripe bananas
1/3 cup neutral oil
1 tsp vanilla
1/3 - 1/2 cup dark brown sugar
2 eggs (or egg substitute - flax or chia eggs work well in this recipe)
1/3 cup dark chocolate chips
Directions
1. Preheat oven to 350F and line a regular sized muffin tin w 12 liners.
2. Combine the dry ingredients in a large bowl and stir until you can see that the cinnamon has been evenly distributed. Make a well in the centre of the bowl and mix in the wet ingredients. If your mixture seems dry, add a splash of water or milk so that the batter still holds its shape when scooped but is no longer dry.
3. Fold in the chocolate chips, reserving some to sprinkle on top.
4. Scoop the batter into the muffin cups and sprinkle on the reserved chocolate chips. Bake for 23-25 mins until a skewer or sharp knife inserted into the centre of the muffin comes out clean. Allow muffins to cool completely before transferring to a zip top bag for storage. For best serving results, remove the muffins from the freezer the night before and allow to defrost on the counter for breakfast.
Related Posts