My Meh-Dai Babywearing Adventure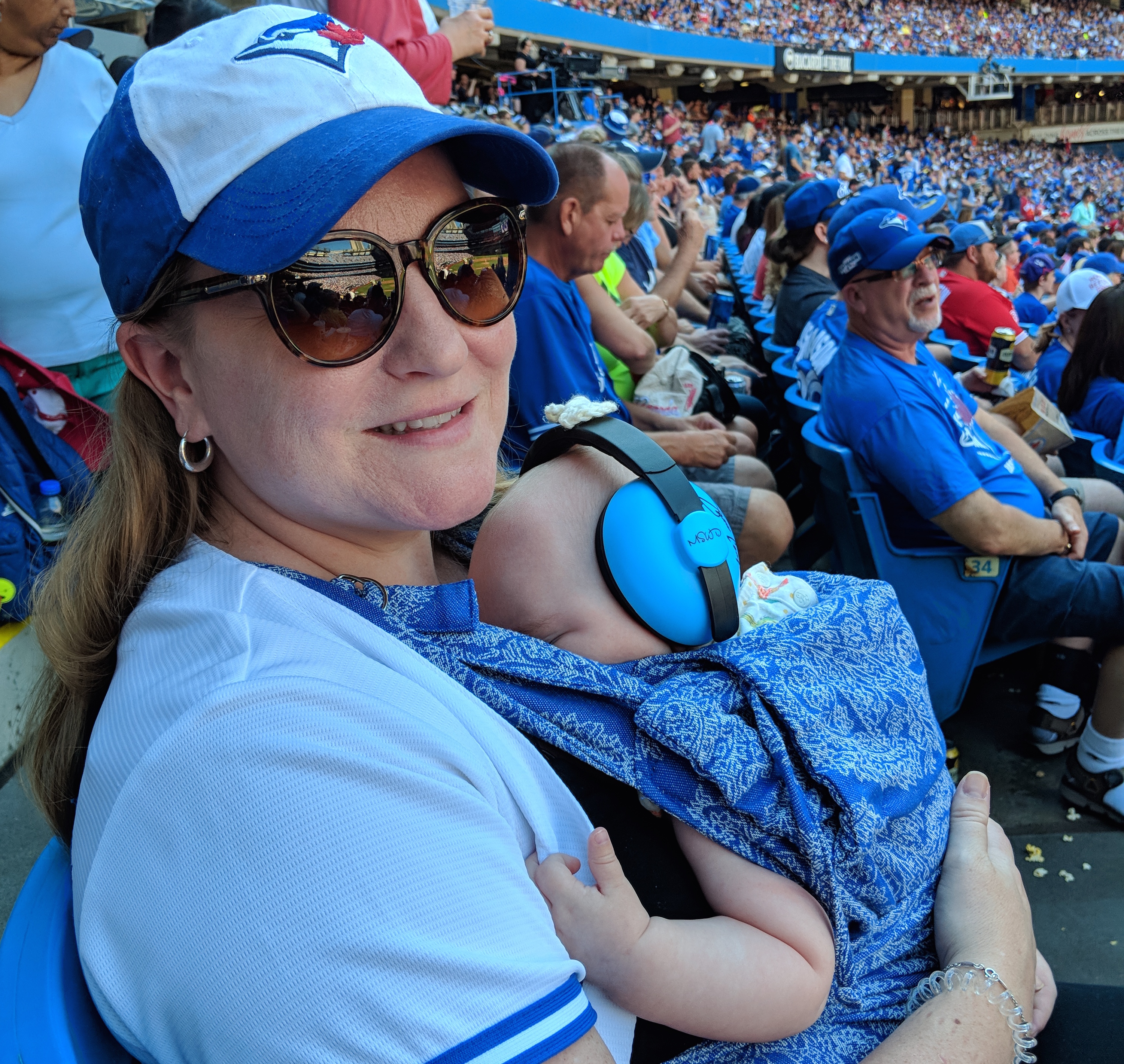 Before I had my daughter, I'd see women toting their children around in cozy wraps or carriers and I wouldn't give it a thought. It seemed like a logical mode of transportation. But once I got pregnant, I started hearing the term babywearing thrown around like it was a parenting style or a mindset.

"Do you think you'll be babywearing?" someone would ask.
"Wow, your baby has a huge head. Did you deliver naturally?" "YEP!" (I had the drugs. But I also created a small human and it exited my body. Seems natural to me.)

"Will you be breastfeeding?" "YEP!" (When did it become ok for strangers to ask me about my breasts? Trick question. It didn't.)

So I said yes to babywearing because it's my personal policy, plus it seemed practical because I live downtown and my grocery store has really narrow aisles. It also seemed like a one-way ticket to Snuggletown.

My daughter was pretty tiny when I started wearing her around the apartment in a wrap. It was cozy and she tended to drift off to sleep while I was puttering around. That led to me doing the dishes, and then we were all winning. So when I was invited to test out the Diva Essenza meh dai sling from With My Baby, an online retailer offering a range of baby carriers, nursing and babywearing clothing, I jumped at the chance.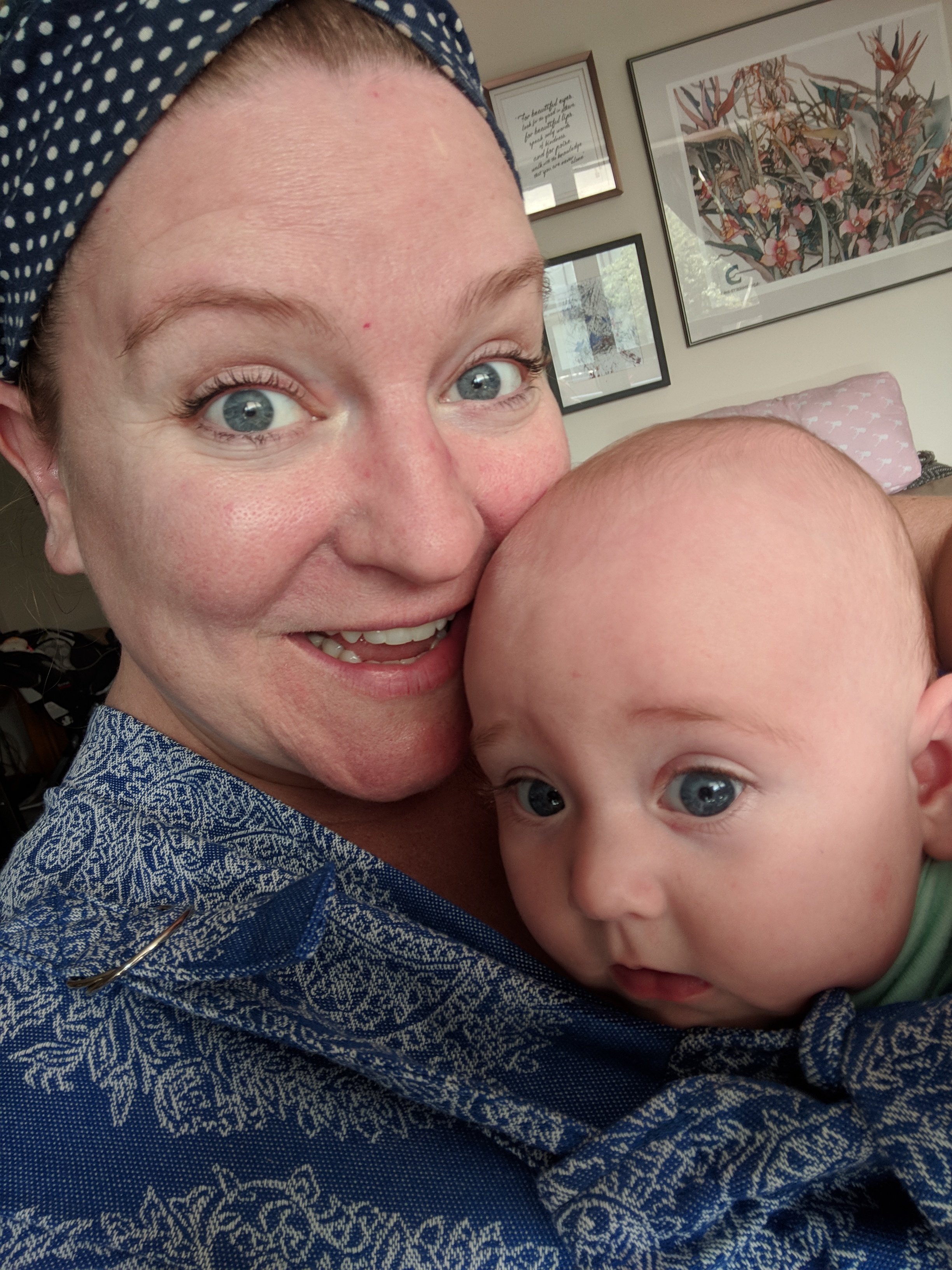 A Meh-dai (aka mei-tai) is a soft carrier with long straps for your waist and shoulders that you tie in different ways, depending on how you want to carry your baby. You can adjust it to suit the size of your child (and you), and because of the Diva's cinching cords, it's even more customizable. This particular carrier can accommodate babes from birth to two or three years and adults up to size XL. It can be a little tricky to figure out at first, but once you get the hang of it, you're set.

When the Diva Essenza meh-dai arrived, I was jazzed because it was so pretty. The fabric was soft (50% cotton, 50% bamboo) and it was cuuuuute! It also came with a very detailed instruction manual, explaining how to use it. Naturally, I YouTubed it instead. Then I put it on inside out.

Anyway, we all know the first step in testing out a baby carrier is a dance party. Success.

Then we were off and running (not literally, I'm not a maniac.) Over the next few weeks we went grocery shopping, to mommy-and-me yoga, visited Dad at work, took the TTC and, most importantly, went to a Blue Jays game. They lost, but we looked dang cute.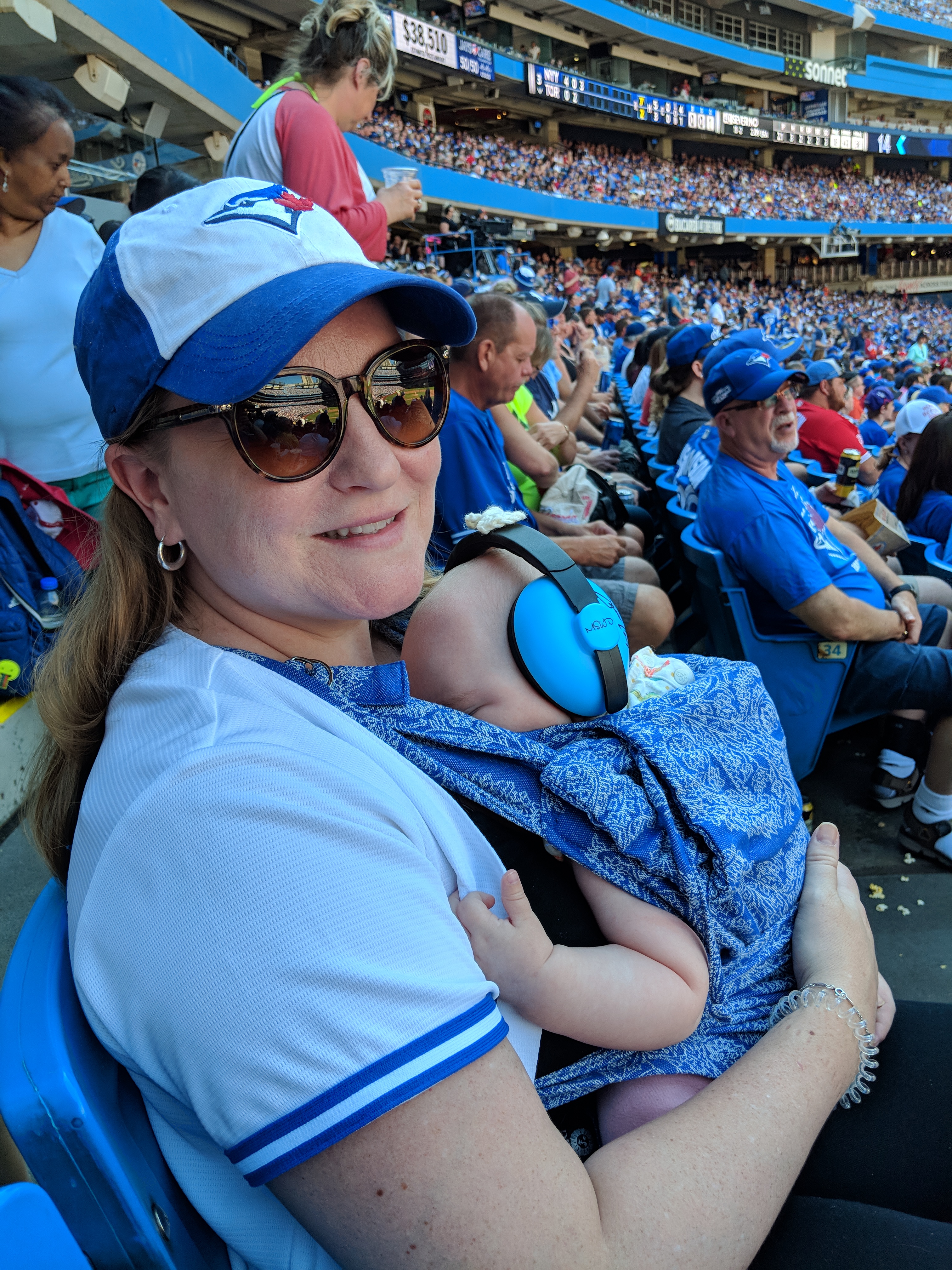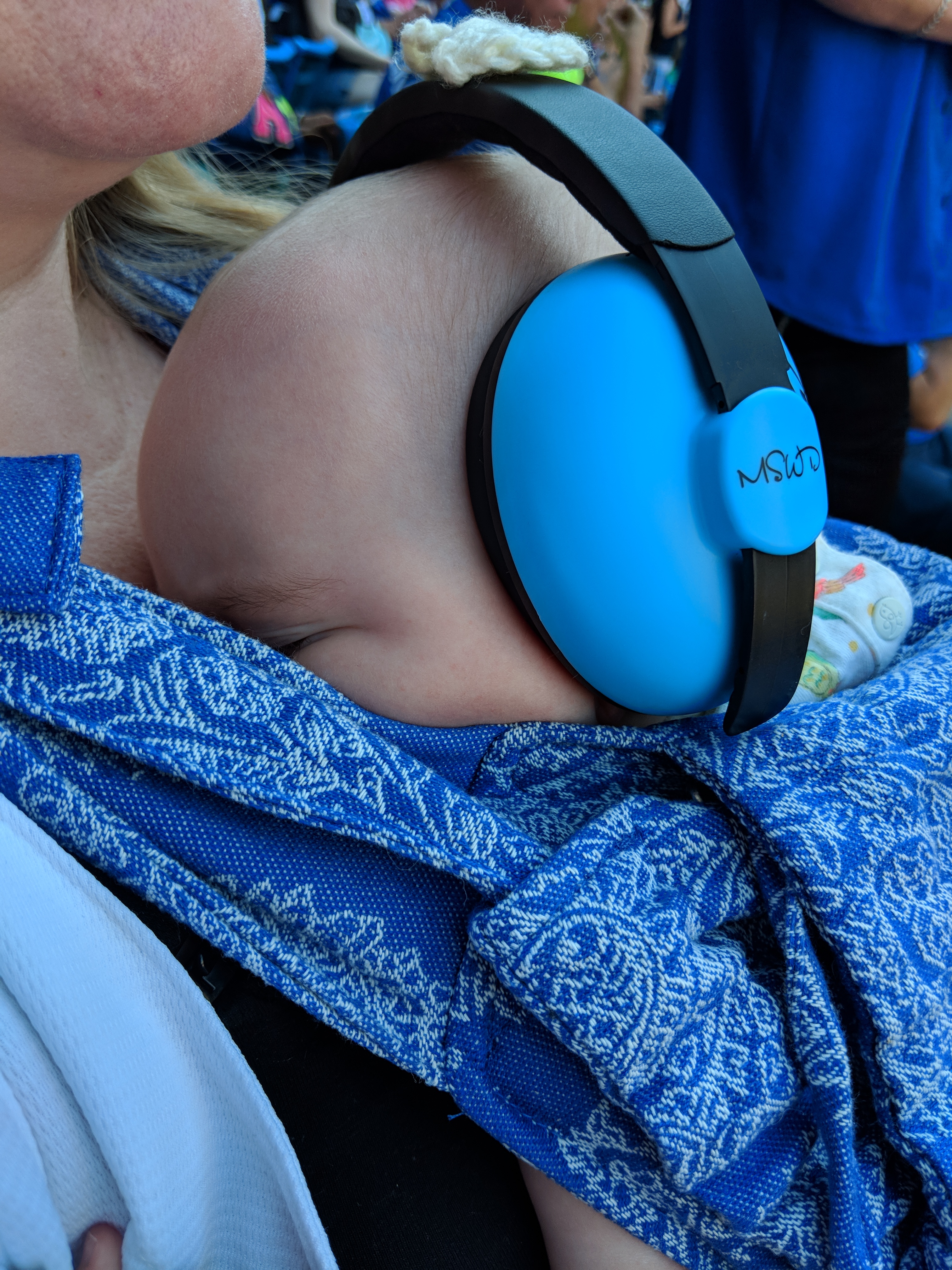 I got tons of compliments on the carrier, but my main concern was how my back would feel after using it. I'm five months postpartum and my back gets pretty sore. But I'm happy to report that I wasn't any creakier than usual after carting around my 17-pounder for a few hours. Most importantly, baby girl loved it. She was snuggled up close to me and happily snoozed or practiced her people-watching skills.

The babe and I both have sensitive skin, but neither of us had an issue and that's probably because of the high-quality fabric. I was a little worried about carrying her during a serious heatwave, so I didn't take her out on the hottest days, but when I did, I was impressed with the breathability of the material. I couldn't tell if the moisture running down my chest was sweat or drool, but that's #momlife.

The hood is nice to have and the manual says that it can be used four ways, but my little one wants to see the world, so we didn't put it over her head. We did find a fifth way to use it, though: fold it over once, secure the straps and voila – the perfect pocket for your sunglasses.

I also didn't really get the hang of having the straps spread over my upper arms. It makes it difficult to reach up for anything and seriously limited my ability to give high-fives.

Additional things I may or may not have done while babywearing:

• Tidy the apartment
• Stand in front of the air conditioner while eating five chocolate chip cookies
• Put on my makeup
• Whip open the shower curtain to terrify my husband while he takes a shower
• Comfort my husband after he gets shampoo in his eye for unknown reasons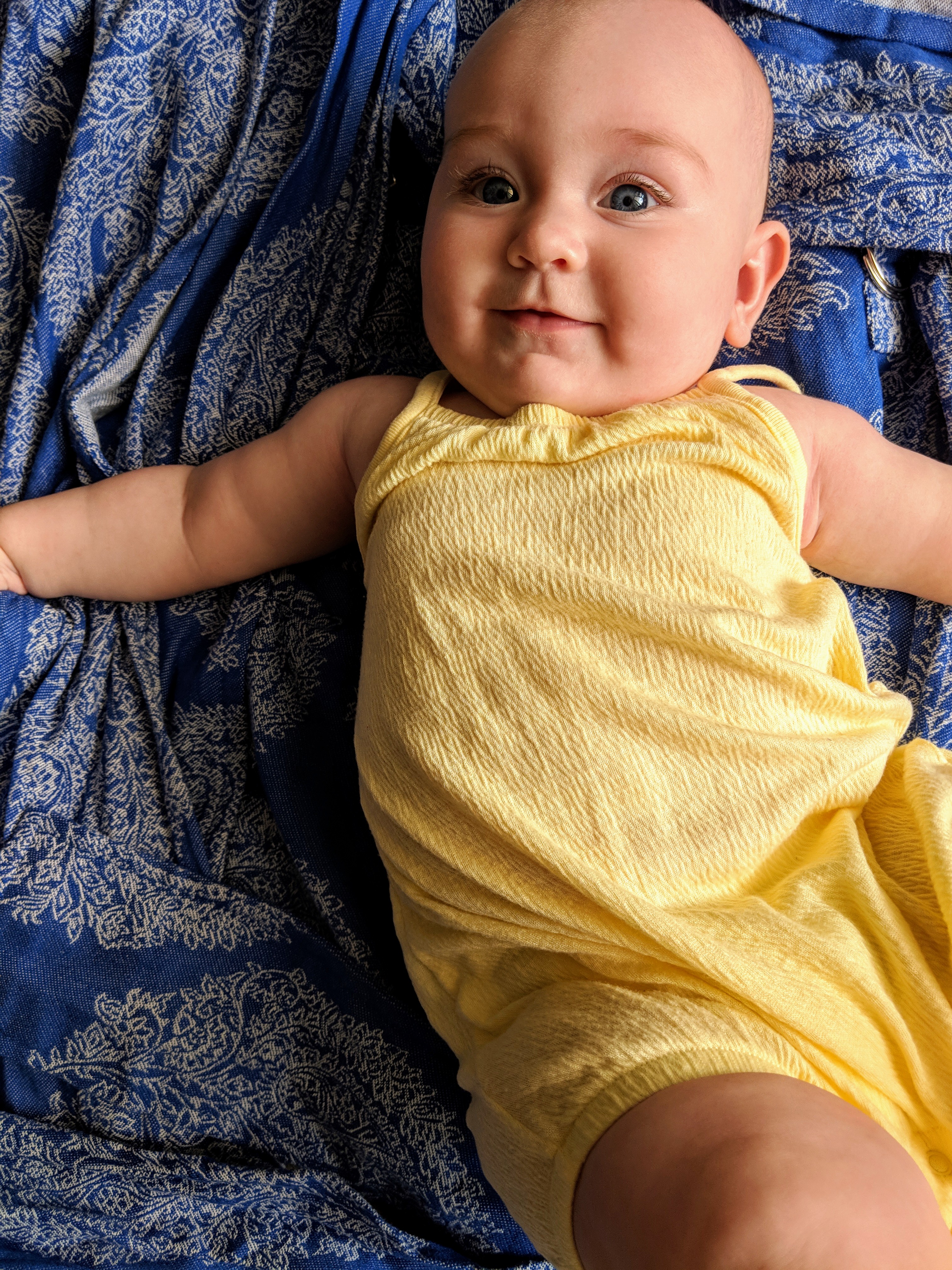 No matter what shenanigans you choose to get up to, I'd say the Diva Essenza meh-dai sling is a pretty great way to take your babe along for the ride. Have patience, practice with a stuffed animal until you feel confident in your tying abilities and get out there.

And when a stranger asks if you plan on babywearing, give an enthusiastic "YEP!" whether you mean it or not. I won't tell.
---
WithMyBaby.com is your all-in-one maternity, nursing, and babywearing store! Their wide selection of baby carriers free-up your hands, keeping your baby nice and close. They also offer woven wraps, meh dais, and ring slings of exceptional quality and beauty. With options in many colors, they have something for any taste and budget. Healthy Moms Cardholders save 15% off their purchases. Check out their listing for details: https://gohealthymoms.com/withmybaby-com
---