No More Stinky Laundry, Naturally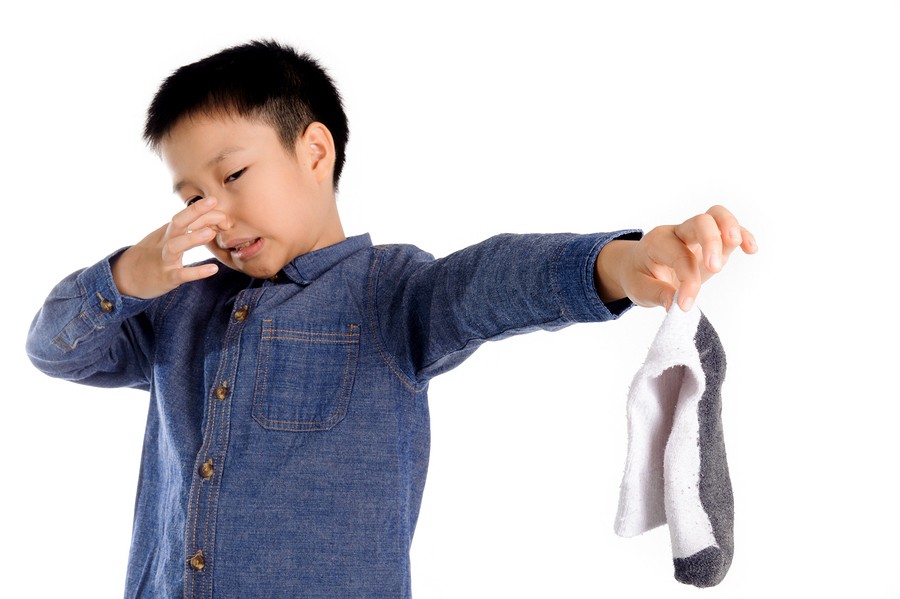 Our family of five stinks. Literally.
While I'm not athletic myself, I am married to a guy who plays hockey and runs on his lunch hour. I'm no stranger to smelly laundry. If that gym bag lurking in our laundry room were ever to get together with the hockey equipment in our garage (yes, the garage,) the smell would make you wish that "nose-blind" was really a thing. It's not.
Fast forward 15 years.
Happily married, we are the proud parents of three beautiful, accomplished teen/tween people. In between homework and hormones, our family's extracurricular activities also include violin, choir, gymnastics, dance, track & field, cross country running, baseball, soccer and yes, hockey.
Remember when your baby starting eating solid food, and the diaper changes went from "What's the big fuss?" to "Oh my God! How does such a tiny human make such a smell?!" Well get ready -- because the tweens are a rude re-awakening all their own. Your home begins to smell like, well, a goat farm. The kids' shirts begin to emit a smell that is detectable from three rows up, in the family van. Socks, well…don't get me started.
In our green and healthy household, we have long avoided chemical cleaners. Combined with our avoidance of aluminum-based antiperspirants, this has meant some trial and error in the laundry room. We avoid dryer sheets, with their chemical fragrances, and stick to laundry detergents that rank well on the Environmental Working Group's safety list. So, when one of our favourite cleaning brands, Nature Clean, recently launched laundry odour remover pods, I may have actually cheered out loud! This week, we put the Nature Clean odour remover pods to the test, using our smelliest laundry loads: dancewear, running clothes, hockey uniforms and (yep, the worst) tweenagers' sweaty shirts. Here are the results:
Nothing -- and that's great. No sweat stink, but also no bouquet of chemical fragrances in its place. Just clean. In our front-loading washing machine, I supplemented our regular eco-detergent with 2 Nature Clean odour removal pods. The package recommended using 1-2, and figuring our laundry was as stinky as it gets, I chose to use two. I popped the pods right in the main cavity of the machine, with the clothes, and washed as usual, using warm water and a cold rinse cycle. When I opened the door an hour later, I was greeted with a fresh smelling load -- or should I say, a non-smelling load. My favourite thing about these new pods is that they don't contain fragrance! Unlike chemical cover-up sprays or scented detergents & fabric softeners, these pods don't just cover up one smell with a stronger smell. The smell simply washed away with the rinse cycle. According to the package, it works just as well on smells like mildew, pets, smoke and grease as it did on our sports equipment and sweaty T's and socks. I call that a win!
Our family's healthy & natural laundry room includes some pretty awesome products. Here's what we use, both for our family and for our kids' clothing resale business, iSpy Clothing:
Everyday Laundry:
As the mother of three kids, and the owner of a popular secondhand kids' clothing shop, I do a lot of everyday laundry. Rather than treating all your laundry with high-powered stain-battling chemicals, I recommend a more natural approach. Keep a separate basket marked "stain removal" and another for smelly, or "heavy-duty" washing. The everyday stuff is handled perfectly well by any number of natural detergents. We rotate through all of the following, choosing whichever is on sale: Nature Clean, Ecover, Seventh Generation, and Biovert. All are readily available at our local grocery store.
Delicate & Lightly-Soiled Laundry:
Two great options for lightly-soiled laundry that we love around here are Nellie's All-Natural Laundry Soda, and soap nuts. Nellie's is gaining in popularity and now widely available. Your new 2017 Healthy Moms Toronto Discount Card can help you get it for an extra-good price at Well.ca now, which is super. Lesser know, soap nuts are actually berries from a tree that grows in South Asian countries. When agitated in hot water, they produce a cleaning agent that has a fresh, natural scent and is effective in cleaning lightly-soiled or delicate laundry. There are many options in Ontario for purchasing soap nuts and a cloth bag in which to place them, for tossing in with your laundry load. If you decide to give soap nuts a try, our favourite method is to boil them in water to create a detergent liquid, which we then store in mason jars for the week.
Stinky Sports Laundry:
Nature Clean's "Odour Remover for Laundry" pods are our newest staple, in the laundry room. They are colour-safe, and safe for high-efficiency machines. They work in any temperature of water, and contain no perfumes/fragrances, dyes, chlorine, sulphates or phosphates. While Nature Clean says they can be used "on their own or as a detergent booster" I definitely recommend the latter. Toss one in the main part of your machine, with the clothes themselves. Then, use a good liquid detergent (see above for our picks) in the detergent dispenser drawer, and say goodbye to smelly laundry.
Stains:
Everyone knows that sunshine is nature's stain remover. Line-dry your laundry in the sun, whenever weather permits. Indoors, my hands-down favourite commercial stain remover is a classic yellow soap stick from Buncha Farmers. Reminiscent of the old Sunlight bars that Grandma used to use, Buncha Farmers Stain Stick is an equally affordable, more natural stick. My husband calls it "The Butter" as it's roughly the same size and shape as a stick of butter. Wet the stain, and rub the stick into the fabric. Using a small scrub brush, or just fabric-on-fabric, rub and scrub the stain before tossing the item in the laundry machine. You can pick one up for as low as $3.99, and it really works on everything from blood to grass to baseball infield clay.
Recently I've also had great luck with a popular internet DIY recipe. After seeing great reviews of the so-called "Blue Dawn" DIY stain remover, I set out to make it the recipe in a more natural way. Replacing the blue dish soap with Dr. Bronner's unscented castile soap, I experimented, and find the following proportions make an effective stain removal paste using just castile soap, hydrogen peroxide and baking soda, for grit. I keep just these three ingredients, a Buncha Farmers stick, and a scrub brush all together in a caddy in our laundry room.
Natural Static Prevention Tips:
Line-drying clothes in the sun (or rack-drying them indoors) is a great way to avoid static cling. In the dryer, wool dryer balls are a natural way to control static. Used 3 at a time, the wool balls bump around, separating laundry for quicker drying time too. Watch carefully and pull your clothes out as soon as they are dry. Overdrying is the biggest culprit, where static is concerned. If you enjoy scented laundry, add a few drops of an essential oil to the balls before drying. Lemon is a nice, fresh scent for laundry as is lavender.
You can find Nature Clean Odour Remover for Laundry at many health food stores, in the green aisle of some major grocery chains or online at well.ca with your Healthy Moms Toronto Discount Card. Follow my kids' clothing resale shop iSpy Clothing, a participating Healthy Moms Toronto business, online @ispyclothing on Facebook or Twitter this month for a chance to win a free trial pack of 10 Nature Clean Odour Remover for Laundry pods.
---
Rebecca Saha is the Healthy Moms Toronto kids' clothing & style expert, and co-owner & curator of iSpy Clothing, a Canadian online children's resale shop. www.iSpyClothing.com.

Check out their listing at www.healthymomstoronto.com/ispy-clothing and find out how you can save 30% off your purchase of clothing and accessories with your Healthy Moms Toronto Discount Card.