Polishing Hand-Me-Down Treasures
Being a Healthy Mom means something a little different to each of us. For lots of modern parents, though, creating a healthy home includes thinking about the environment around us. We may talk with our kids about recycling, bring our own bags to the store, read ingredients more carefully, and be a bit more conscious about what we put in our carts.
One of my favourite ways to minimize our family's environmental footprint is shopping secondhand. In fact, our family rarely buys anything new anymore. Even better than finding a great secondhand buy, is opening a great bag of hand-me-downs from a sister, a neighbour or a friend from your moms' group. It's like Christmas has come early!
Whether shopping resale, thrifting or being gifted with hand-me-downs from friends, here are a few easy tricks and tools that can help you score and restore hidden gems:
Iron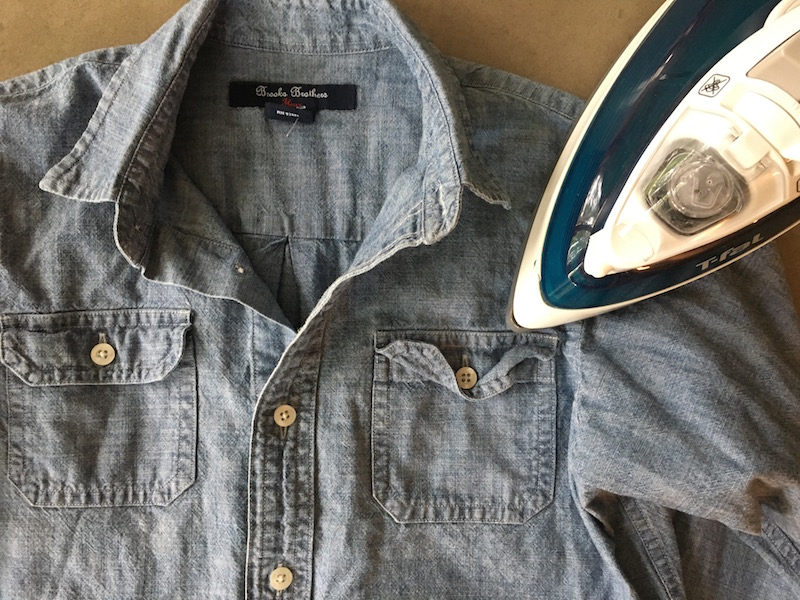 This may seem too obvious to mention, but often something as simple as a once-over with a steamy iron can be the difference between a rough and polished finish on fabric. Before rejecting a piece that's in otherwise good repair, give it a once over with the iron and re-evaluate.
Scissors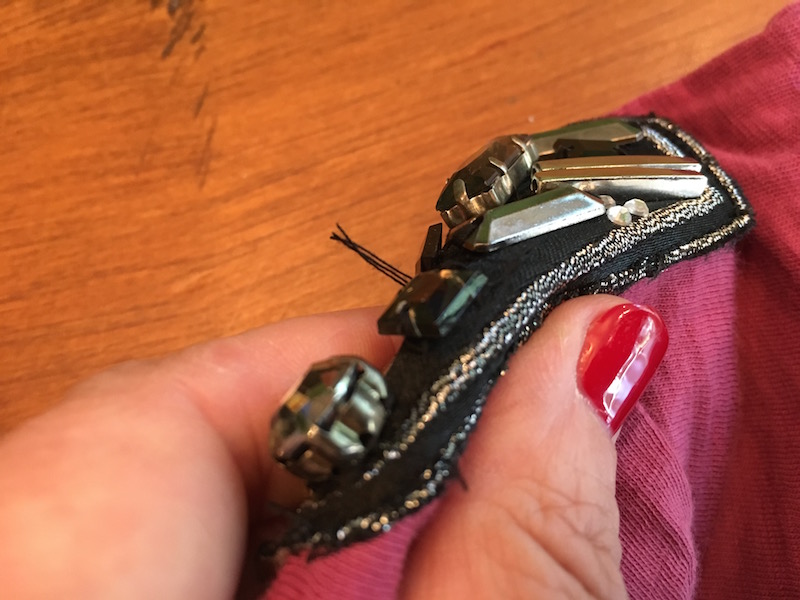 Sprucing up a secondhand piece is often as simple as carefully trimming loose threads. Be careful to use only sharp scissors, in a well-lit area for good visibility.
Tweezers & Chopsticks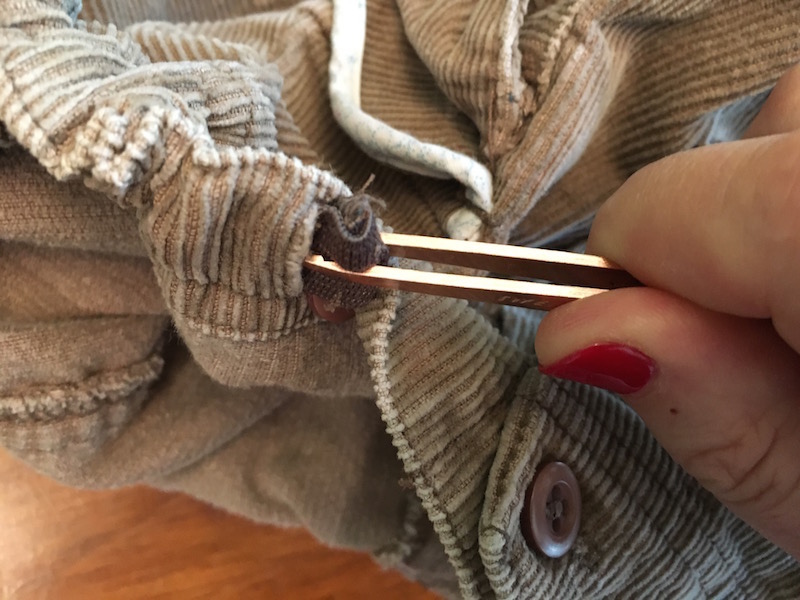 Push or pull lost waistband elastics, fix inverted seams and lots more with these simple tools from your kitchen and bathroom.
Fabric Comb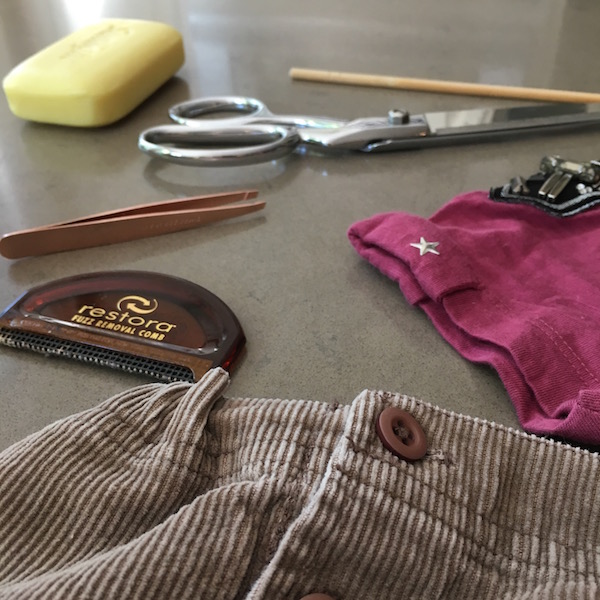 Better than a shaver, which can damage garments, a great de-fuzzing comb can take years off sweaters, corduroy, wool and other fabrics
Sticky Roller
I don't often recommend trying to remove pet hair if you have allergies in the family, but every now and then there's a piece that you can't let go to the dogs!
Stain removers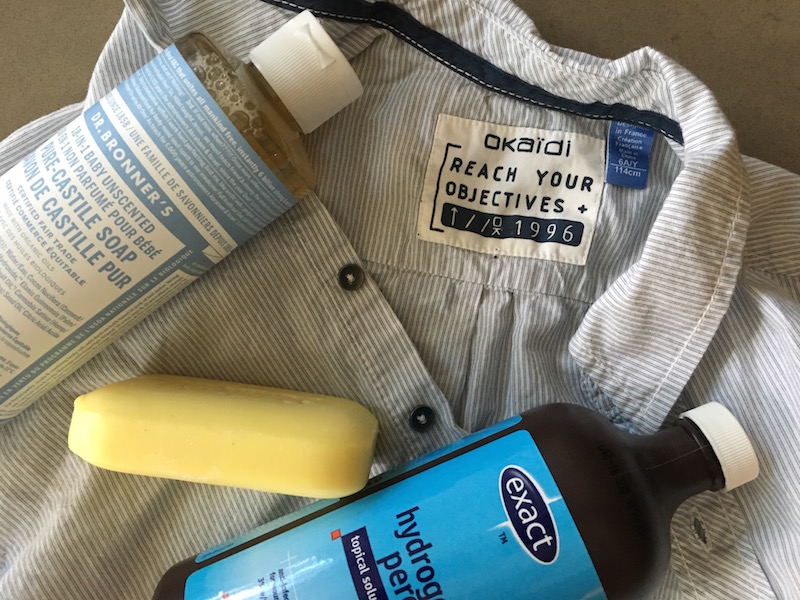 Whether it's an old-fashioned Sunlight bar, a more environmental version of the same, like the popular Buncha Farmers stain stick, or DIY ingredients like Dr. Bronner's and hydrogen peroxide, get your kit together and then keep it handy. Tip: take a pass on pieces with dark grease spots, but don't let stuck-on stuff put your off a great find. Stuck-on food (or "schmutz" as my Grandmother used to call it) may simply come of in the wash!
Not all fabrics are created equal, and let's be honest, I'm not likely to spend time de-pilling a bargain t-shirt. But great kids' boutique brands and high-end mall brands typically use robust fabrics that can withstand a bit of work, to freshen them up for a second life.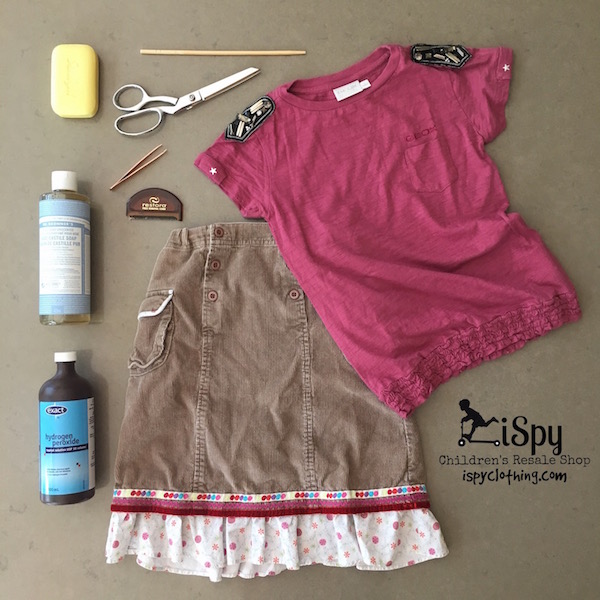 So, put your clothing care kit together, and give secondhand diamonds-in-the-rough a second look. They may be just a wash-cycle or snip away from becoming polished gems!
---
Rebecca Saha is our Healthy Moms kids' fashion expert and co-owner/curator of iSpy Clothing children's online resale shop (www.iSpyClothing.com), where Healthy Moms cardholders receive 20% off children's clothing, shoes, and accessories. Find out more here: https://gohealthymoms.com/ispy-clothing
Related Posts