Recipe: Easy Lemon Ginger Water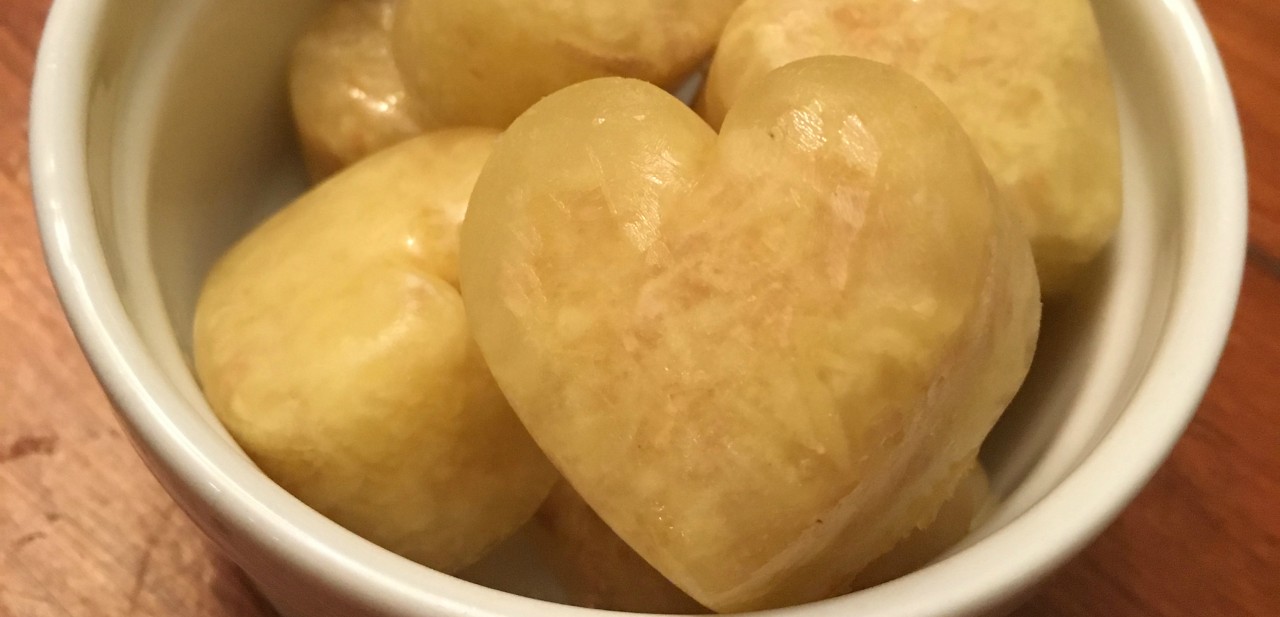 If you're a lemon water person, the prep and storage struggle is real. All that alkalizing goodness, the tummy soothing warmth, the vitamin-C boost -- it's so good! But cutting squeezing and storing fresh lemons is work. I also love fresh grated ginger tea, for the added anti-inflammatory and gut-goodness of ginger. My pantry, fridge, tupperware and freezer have ginger root pieces and lemon halves in almost every corner!
This week, a colleague took something out of the freezer, and popped it into her mug while she was talking to me. Then she poured hot water over it, sighed and enjoyed. It was a moment. Amazingly, it was the same hot ginger and lemon water that I love, with none of the messy storage issues that plague my kitchen. I had to try this at home!
With Valentine's Day around the corner, I pulled out my silicone hearts "ice cube" tray (previously used for everything from cute party ice, to mini glycerine soaps, to chocolate melts.) In 4 easy steps, I prepped 24 mugs of lemon-ginger water for the next month!
Here's how:
Grate ginger root on the finest side of your box grater. If you have a rasp you love, that works too. Pro Tip: frozen ginger root grates into a powdery texture, for an almost dissolvable result. Fill the mini shape tray up to halfway with ginger, depending on how strong you like your ginger tea.
Squeeze 2 lemons, straining seeds, and fill the tray the rest of the way up with juice.
Freeze, pop out of moulds and store in a freezer-safe bag or container.
Next time you're in the mood for a hot and healthy boost in a mug, pop a frozen puck in the cup, and pour boiling water over top. Add some honey (optional) to sweeten for your Honey, and turn this into a Valentine's Day treat you can enjoy together this Tuesday night, after the kids are asleep. Enjoy!
Related Posts