Saving Your Skin From Stretch Marks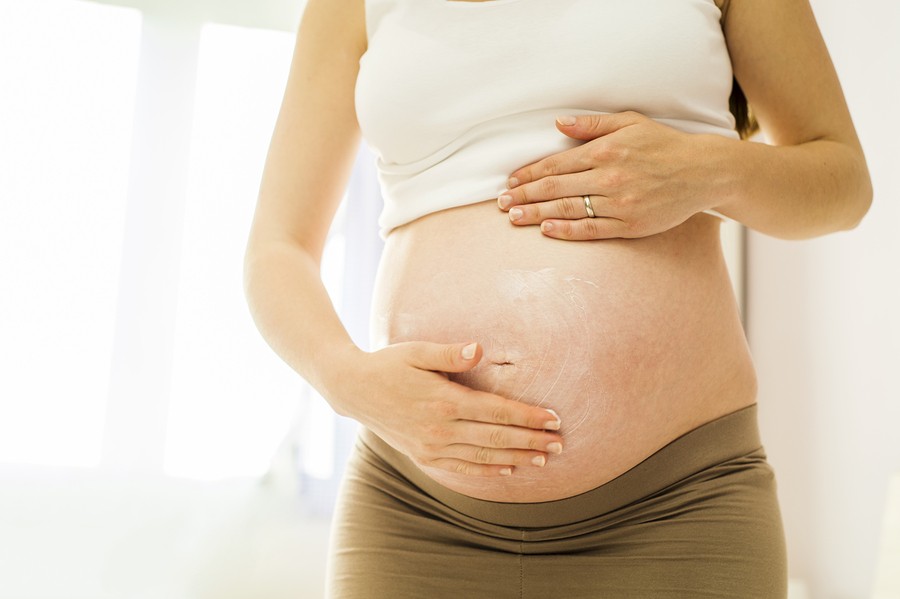 As the fatigue and nausea of morning sickness fades, the second trimester often ushers in skin issues caused by those delightful pregnancy hormones. Acne, itching, darkening and stretch marks are the hallmarks of pregnancy and although many symptoms fade after delivery, those pinkish silvery streaks known affectionately as stretch marks are often a badge we wear long after babe is out of diapers. Stretch marks occur when your skin grows too quickly and the fibers in your skin tear. When they first develop, stretch marks are red or purple, but over time, they mark their permanence with their silverish- grey streaks. As the skin around your belly stretches, it may also become dry and itchy, a symptom that can be managed by moisturizing daily.
Choosing the Right Moisturizer For Your Belly
When scouring the aisles for belly butters and mummy tummy creams, I am always horrified at the long list of toxic ingredients. Parabens, synthetic fragrances and mineral oil are the usual suspects. I have always gravitated towards natural products but during pregnancy I make a point to stay away from ingredients that stray too far from their natural form. I used organic coconut oil during my first pregnancy but was never truly satisfied with the results, so I was delighted when I was introduced to
Zaya's Belly Oil
, particularly since I had been eyeing their line of natural, organic infused oils for quite some time. Before I even opened the box I was charmed. The bottle of oil is stored in a beautiful box that I couldn't bring myself to throw away. The box now houses my favourite watch and a few special trinkets. I also love that the oil is stored in a dark glass bottle, which prevents the oil from oxidizing when exposed to sunlight.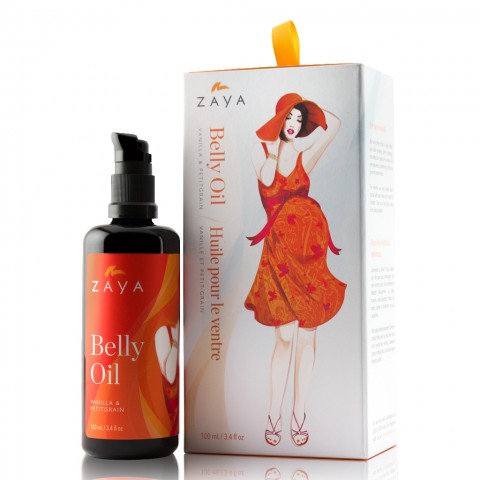 The Belly Oil is comprised of naturally sourced oils and infused with vanilla and petitgrain. While I am usually drawn to vanilla, the slightly musky petitgrain was a new scent for me. Some women can be bothered by scents and smells during pregnancy but I can happily report that the scent of the Belly Oil does not linger once it is applied. Just 3-4 pumps will generously cover your belly and unlike some oils, it absorbs beautifully into your skin and leaves no oily residue. I initially applied the oil on dry skin but upon noticing the recommendation to apply to damp skin, I gave that a whirl and found this enhanced the absorption. I have been using the oil now for two weeks so although it is too early to tell if Zaya will save me from those silver badges of honour, I absolutely love the ritual of using the oil every evening and taking the time to connect with my baby.
---
Zaya will be featuring their Belly Oil at the
Healthy Moms Toronto Zone at the Baby Show
this weekend, October 1-2 at the Enercare Centre, Exhibition Place. Stop by their booth and receive 20% off when you purchase the Belly Oil or other face/body oils.
Check out Zaya Eco Skincare's listing at
http://healthymomstoronto.com/zaya
to find out more and receive 20% off your online purchases with your Healthy Moms Toronto Discount Card.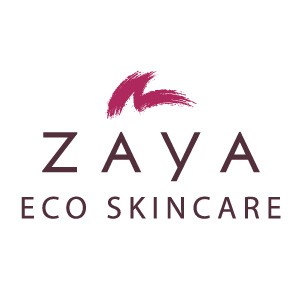 Related Posts