Sleep In September – New Beginnings and a Return to Routine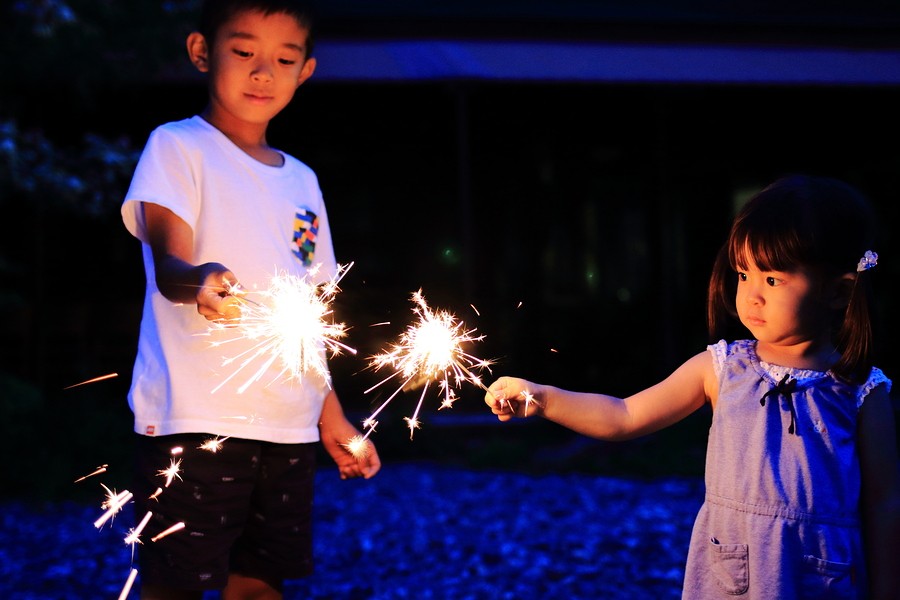 Last week, I was on vacation with my family at a resort in Northern Ontario. A little before 7pm, I was starting to think about what to have for dinner, while my kids, still in their swimsuits, were playing barefoot soccer on the grass. A young man and woman, along with their one year old son, emerged from the cabin next door. The little guy was in his jammies, and the parents were allowing him a few more minutes outside before heading back indoors for bedtime. I looked at my watch and realized how late it had become, and we were not even close to bedtime!
I smiled and congratulated the young parents for keeping to their son's bedtime, especially during the summer, and especially while on vacation. "We have no choice," said the mom, "if we don't stick to his regular bedtime, he'll start waking up at night, and then tomorrow will also be a disaster."
Bedtime for the baby next door was a good excuse to rally my crew to get into their jammies while I pulled dinner together. My kids are a little older, all school age now, and better able to handle a later bedtime from time to time. In truth, they haven't been to bed on time much since summer started. We've been enjoying a relaxed schedule this summer, and I haven't been on top of an appropriate bedtime the way I am during the school year. It occurred to me that in the next few weeks, I'm going to have to help the kids get ready for their return to school, and going to bed on time is an important part of this preparation.
Whether your children are infants, toddlers, preschoolers, or school-agers, September is often a time for a return to routines. At this time of year, the new schedule for mom & baby activities is released, some children begin new childcare arrangements, and for many, it means the start of preschool, kindergarten, or even grade school.
Don't wait until the night before the big day to start trying to get back on track! Here are some simple tips to prepare your family for September's return to routines and predictable schedules.
Inch your way back to a more appropriate bedtime
If your kids have been going to bed later than usual, it is a good idea to start moving back to a more appropriate bedtime one to two weeks in advance of when you need to be back on a regular schedule. For most babies and toddlers, 7pm is an appropriate bedtime (even earlier depending on how the day's naps have gone). Even preschoolers and kindergarteners are ready for sleep at 7pm, as are early school-age kids who are no longer napping during the day, especially if an early wake up in the morning is required to get to school on time.
Start having dinner earlier in order to leave time for a 30-40 minute bedtime routine. This could include a bath, a story and a song before turning out the lights. If you've been skipping bath time or story time in the evenings in favour of more time outside, now is a good time to re-establish this routine.
Put blackout blinds on the windows help to block out the daylight that still lasts well past 8:30pm. This is especially helpful if your child is keenly aware of the light, or protesting bedtime while it is not yet dark.
If your children are currently waking up later in the morning, you may begin to wake them up 10 minutes earlier each day. Allowing them to go to sleep 10 minutes earlier each night will help to make this transition a little easier.
Involve the Kids in Decisions About How to Get Back on Track
When kids are involved in creating the plan, they are more likely to want to follow it. Ask your children "What do we need to do to get ready in the morning?" and let them offer up the solution – get dressed, have breakfast, brush teeth, put on shoes. Use these ideas to create an age-appropriate checklist that can act as a daily guide and reminder. Invite your children to pick out the outfit they'd like to wear the night before, thus eliminating any time needed for choice (or battles) the next morning. You could even choose the breakfast menu together, and set the table for breakfast before heading to bed.
Create Kid-Friendly Checklists
Kids thrive on predictability. They love to know what's happening next, and what's coming in the morning. A simple checklist, which can be posted on the fridge, or on the back of the bedroom door, can help your child know what to expect. If your child is not yet reading, use simple images that they can follow – dinner, bath, books, bed. Even toddlers can get involved in following along, and being responsible for calling out the next steps.
Summer is a wonderful, carefree time to relax, but sometimes schedules fall apart, and our little ones play a little longer and sleep a little later. September is a great opportunity to return to routines, structure and a proper bedtime. This is important to ensure that everyone in the family is getting the sleep they need to be prepared for the activities of the day, no matter what they may be.
---
Heather Lielmanis and Lisa Kvapil are certified Infant and Toddler Sleep Consultants with WeeSleep, where Healthy Moms get 15% off select sleep packages. They create customized sleep plans for families who are struggling with sleep, and helps them to live rested. Reach out via email at This email address is being protected from spambots. You need JavaScript enabled to view it. or This email address is being protected from spambots. You need JavaScript enabled to view it. for a FREE 15-MINUTE CONSULTATION on how to achieve better sleep for your family! Check out their listing here: https://gohealthymoms.com/weesleep
Related Posts