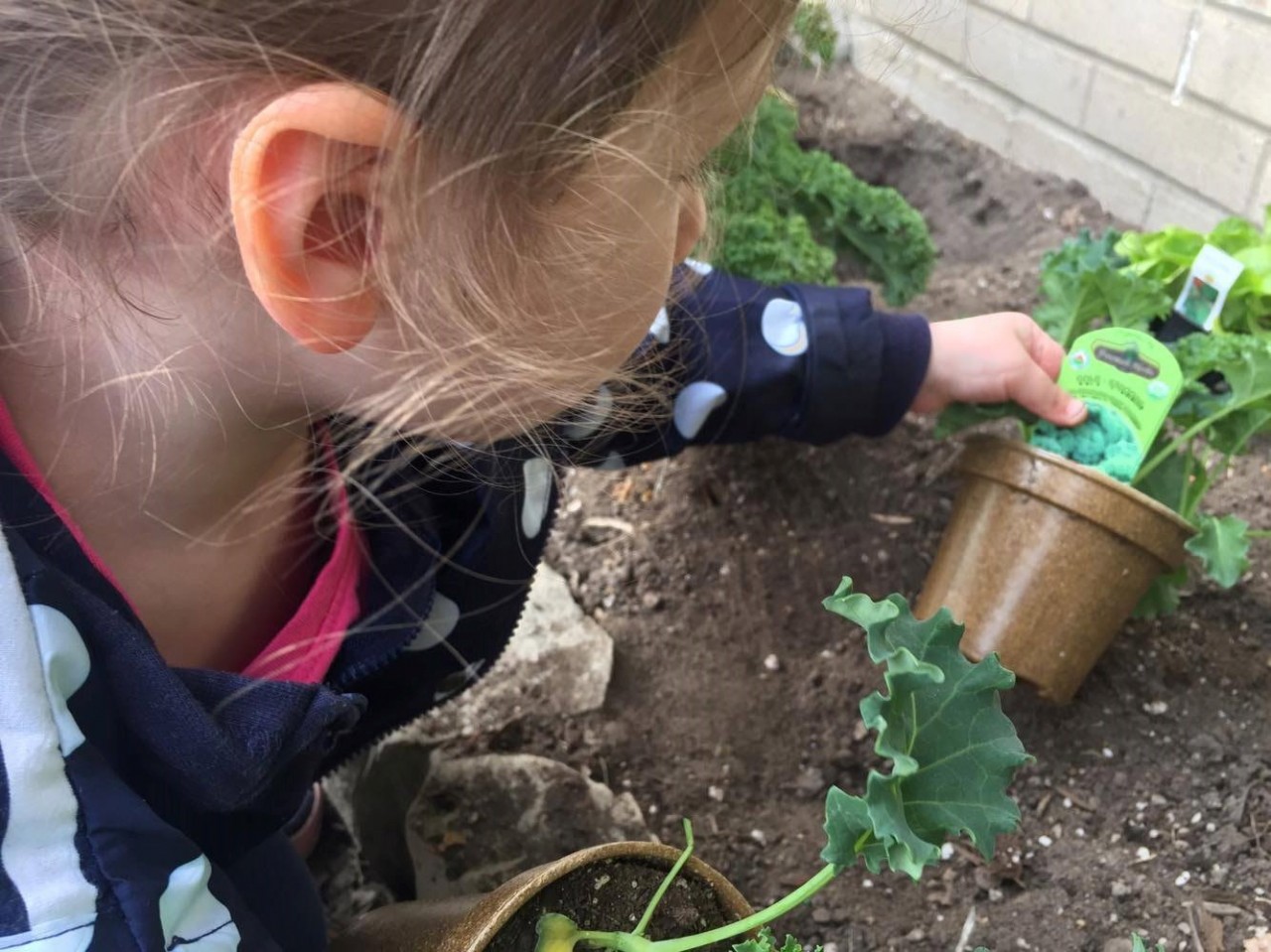 Last night at dinner my almost-3-year-old ignored the rice, chicken and mango on her plate. But guess what? She ate all of her vegetables. This is a total about-face for the girl who would not eat a single vegetable that wasn't hidden in a pineapple-filled smoothie. This change has been happening slowly over the past year, and the major turning point was planting a few veggies in our backyard last summer.
I know, I know, planting your own veggies sounds like a lot of work, but I promise you it's not.
---
Kids love having a veggie garden. They can water it after school or daycare with their very own polka dot watering can and toss around the dirt with their hands or a pint sized bright pink shovel. And they quickly learn to love finding any new growth, popping it off the stem right there and then, and enjoying the result of their TLC (or hard-loving care in the case of most toddlers).
You don't need to build any fancy contraptions to make your own veggie garden. Just use what you've got. Patch of dirt? Perfect. Fence? Superb. Patio pot of any size? You can do it.
All you need is half an hour to go to a garden centre and buy your veggies, tots in tow, and 10 minutes to put them in the dirt. That's it. You don't even need to put them in the dirt as many garden centres sell large pots that are planted and ready to go and the only thing you need to do is give the thing some water from time to time.
Even better? You can plant a small veggie garden for $15 and save yourself many times that amount in the produce you won't have to buy.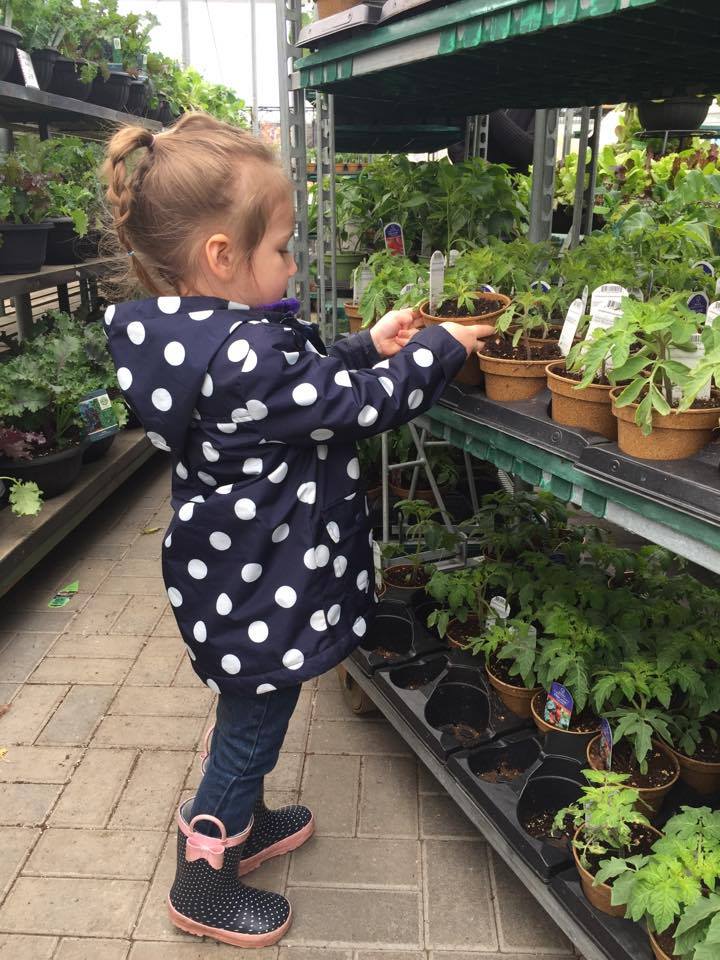 What to look for in a plant
For a successful garden designed to spark a love of veggies, pick plants that:
You can harvest all summer long. To get your kids to start loving the veggies they grow, planting something that yields a measly handful of goodness the whole summer isn't going to work (I'm looking at you, broccoli). You want your kids to go outside every day and find something to munch on.
Don't take 4 months to be ready to eat. Waiting until October to actually try the food you grew is too long. You want to harvest lots and harvest early!
You can find at any garden centre, because who has time to drive to 7 different places looking for just the right variety of Spanish cauliflower (I have no idea if that exists)
The 3 best and easiest veggies to plant this year
Try out that green thumb to get those kiddos into eating their greens.
1. 'Baby' tomatoes – Otherwise known as cherry, grape, 'sweet one million', etc. You can buy an organic seedling plant for $3 or $4, which is cheaper than buying one little container of these babies at the grocery store. Super fun because they grow fast, are ready to harvest earlier than the big tomato varieties, and your little one can snack off the vine to their little hearts content.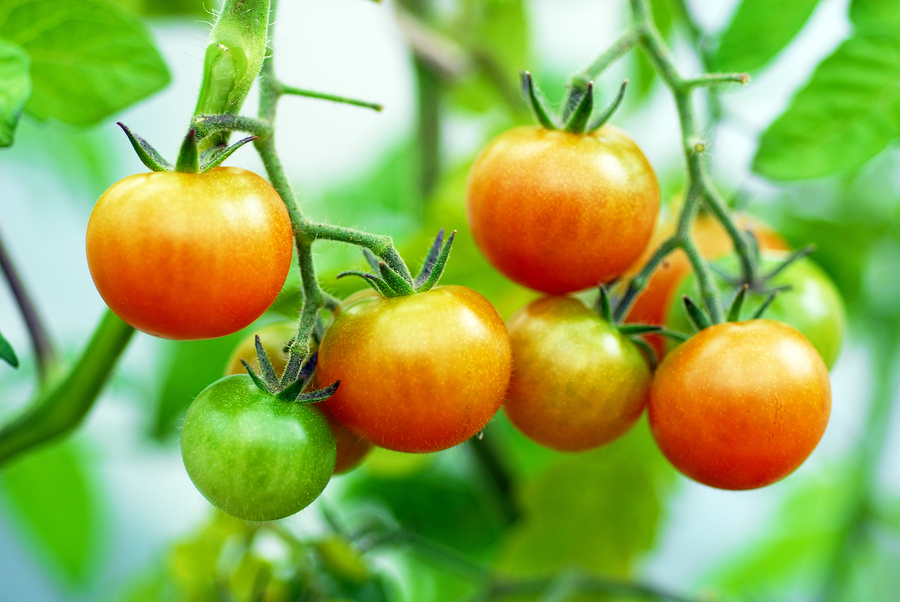 How to make it grow – Plant in a sunny spot that provides an anchor the tomatoes can latch onto as they grow, like a fence, trellis, or in a pot with some helpful sticks. You can also buy them ready-to-go in a big pot with a supportive trellis for a bit more money.
How to use it – Delicious as a snack right off the vine. I often add these to my daughter's plate at meal time to go with whatever we're having. Add to pastas, eggs, quesadillas, or almost anything else you're making.
2. Kale – You will find it everywhere and it is the easiest and hardiest vegetable of all time. Buy green, purple, or even dinosaur variety if you're feeling fancy. Start harvesting this green giant soon after it goes in the ground, and it will grow through the fall and maybe even the winter if you're lucky. My kale lasted ALL YEAR last year. I was dusting off some frost and using it in February. On the couple of days I could bring myself to go outside, that is.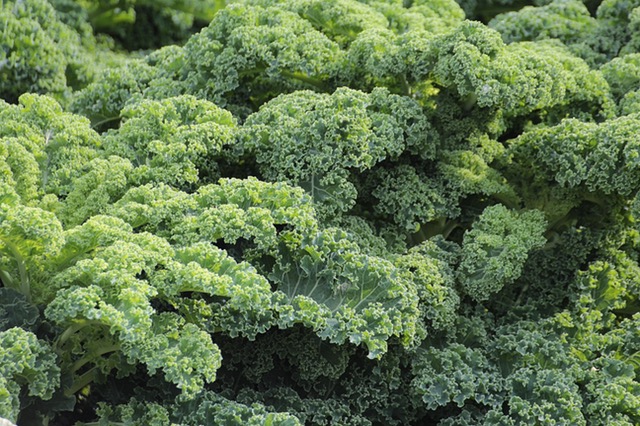 How to make it grow – Dig a small hole, put in kale. That's it. It grows best in part sun, part shade, but don't worry too much about that. It can live without much watering, but it won't mind water every day either, so let your little ones go crazy with their very own watering can. Here's a fun one you can make yourself.
How to use it – Congratulations and well done if you can get your toddler to eat kale salad. I cannot….yet. Make some kale chips or use it for green smoothies that get downed like chocolate milk.
3. Snap peas – I swear peas are entertainment and food for little people. They grow fast, are easy for little hands to harvest, and they have a satisfying crunch when you bite into them.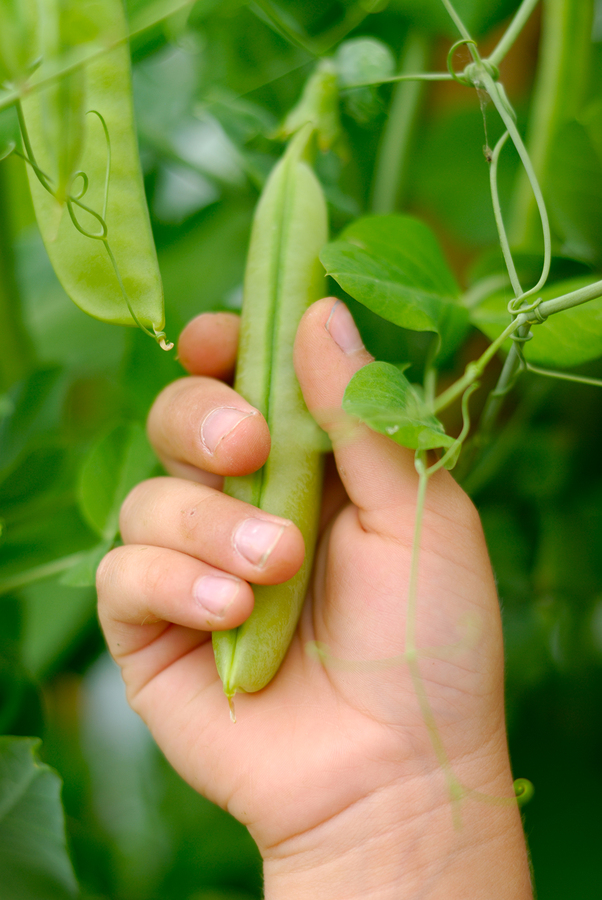 How to make it grow – Like baby tomatoes, peas need a sunny spot, something to latch their little vines onto, and are available ready-to-go in large pots with a built in trellis.
How to eat it – A snappy snack (see what I did there?) any time of day. Add to a stir-fry or serve with hummus or another yummy dip. Bonus points if your child eats them up whole and doesn't follow the 5 step process favoured by my three year old: bite, peel, open, eat the little peas inside, leave the rest for the dogs.
Plant these three easy garden veggies and wait for the magic to happen. And by magic I mean not having to move out of your chair on a warm sunny day to go inside and make your kids a snack. Sit back, enjoy that glass of wine, and tell the kids to help themselves to the healthy snack they grew themselves.