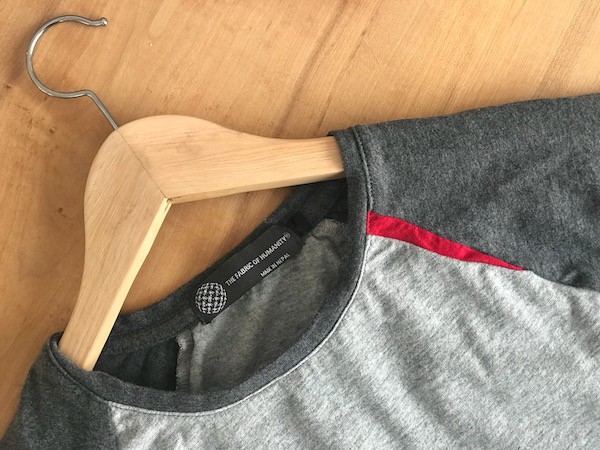 A clothing shop that's really a front for shared philanthropy, with a perk: New threads.
"You're my writer friend." Margaret once said to me. "I have a lawyer friend, a teacher friend, a doctor friend, a painter friend. All the classic professions are represented." We laughed. Fifteen years later, I still think about it, because I was never just a writer. I've always tried to be a 'master of all trades' a knowledge geek, blurring communications, psychology, publishing and design into all of the projects I thumbprinted. Today, I look around me and see how all the professions have blurred lines to further the impact of their endeavours. Recently, an online clothing store and new Healthy Moms partner came to my attention. The Fabric of Humanity does sell clothing, it's true, but what they really do is connect with buyers to create a platform for shared philanthropy.
It works like this: you choose the piece you'd like to wear, you read about the evolution of the item (who makes it, how, where, and in what conditions). Then, you choose which cause (benefitting one of the above communities) that you'd like a part of your payment to go towards funding. The causes are small and measurable, like buying a bicycle for the young girls in a community to reduce the walking time required to complete integral chores and let them find the time to attend school. It's simple and awesome. Could this blending of functions be the future of ethical consumerism? I chatted with owners Nahuel Arruda-Starzenski and Wendy Baldwin, who shared more about how it works.
NAS: Yes, very true that we are more than a clothing shop. When I first conceived it, the idea was to use clothing for a greater purpose and, while we were at it, look and feel great about it too!
We've become really passionate about the stories that happen through the clothing we sell: the makers have better opportunities to make a living (in the way we'd hope to be able to if we were in their shoes), their communities get an additional benefit with the embedded donation for a socially-minded project, and our customers get to enjoy a great product as well as being an integral part of a greater story. We say that our customers hold the pen in writing this story-in-the-making, as they actively choose how to make the world around them a better place.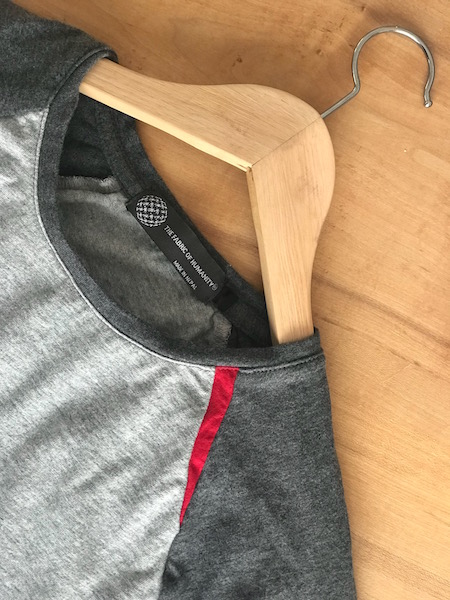 Tell us more about the process for developing and executing your lines specific to the communities you work with and in.
WB: We carefully select our production partners based on a number of criteria. First and foremost are their ethical practices. Once we've identified those that exist because they want to make a difference in a community through their work, we also look at the skill set of the makers and how we can best utilize any available indigenous textiles and cultural heritage in clothes-making. We thoroughly enjoy incorporating these into our designs as it adds to the story of a garment and we work at creating pieces that will provoke and sustain a conversation. Yet another component we consider when designing is that we keep in mind that we are selling to a Western market. As such, we blend components and silhouettes that will complement one another and offer a timeless design. Being timeless is extremely important, as it prolongs the useful life of the garment and reduces consumption—the most important factors in sustainability in the garment industry.
For example, when we decided to partner with our maker in Jaipur, India, we were attracted to the fact that this region had an extensive history and a rich heritage in textile block printing. Block printing has been dominant in this area of India for over ten centuries, that's more than 1,000 years! In fact, our partner employs a 4th generation block printer. After understanding the cultural importance of this technique, we knew for sure block printing had to be [an element] within our organic garments. We learned more about the process and the possible variations, then we designed our Heritage Shirts for men and ladies with subtle block printed elements that were also complimented with another beautiful local touch: mother of pearl buttons.
Ethical means different things for different people, so tell us about The Fabric of Humanity's philosophy on what makes an ethical business and how it's meaningful to Healthy Moms.
NAS: Ethical does mean a lot of things for different people! A basic example would be the relative importance of labour and environmental impacts. To some in the Healthy Moms circle, it may be paramount to support environmentally pristine products. To others, the driving consideration will be to make 100% sure that a product is free of child-labour. We believe two things in this context: one, that as a brand selling clothing, it is important to be fully transparent so that consumers can make informed decisions in accordance with their values; two, that it's more important to our greater purpose to be a force for positive change than to deny a community a chance, if the infrastructure is not set up to score perfectly well in each of our values. For example, our t-shirts from Colombia are not organic (an environmental drawback), but providing an opportunity to the makers and to the children in Tadó, a small town nested in a low intensity war zone, is a very worthy cause too. Our intent is to get to the point in which it will be possible to make items from organic materials there too.
We are at point in human history in which perfect scores in every metric are starting to be desired but almost always impossible. We also are becoming conscious that shopping in accordance with our values is the most practical and effective way to influence the world and have it reflect our own values back to us. It's encouraging to see communities like Healthy Moms realizing that this is a necessary condition in our stewardship of our planet and our society. Our children will surely benefit from it.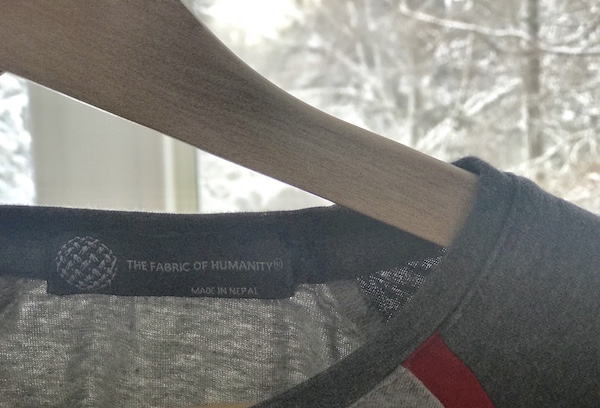 From a style perspective, do you plan to expand your lines? Will you change seasonally? Would you imagine creating a children's line? Oh, and tell us about your future goals for communities supported by The Fabric of Humanity.
NAS: We are constantly working on ways to expand what we offer and want to make children's lines in the future. We, in fact, have great plans under wraps, and we hope to be able to announce them in the new year (probably on social media, so follow us!).
But to your question about our involvement in the communities, we would LOVE to be able to be involved in many different places, offering products supporting honest and decent livelihoods, contributing to local communities in magnitudes that may be difficult to conceptualize. I am yearning for the opportunity to fully utilize my previous work as a consultant and deliver schools, hospitals and innovative solutions to provide better livelihoods for whole communities at once. This is our ultimate direction; our ultimate greater purpose.
---
The Fabric of Humanity would like to offer 50% off purchases made by all Healthy Moms (not just cardholders!) until January 15 at 11:59pm. 50% off promo code: IMPACT50. Please use the following link: https://thefabricofhumanity.com/discount/IMPACT50
After that, Healthy Moms cardholders can continue to save 15% off using their regular promo code. Find out more here: https://gohealthymoms.com/the-fabric-of-humanity
The author received a complimentary item of clothing from The Fabric of Humanity for her work on this piece. All opinions are her own.
Related Posts