The Green Playroom: Choosing & Caring For Kids' Toys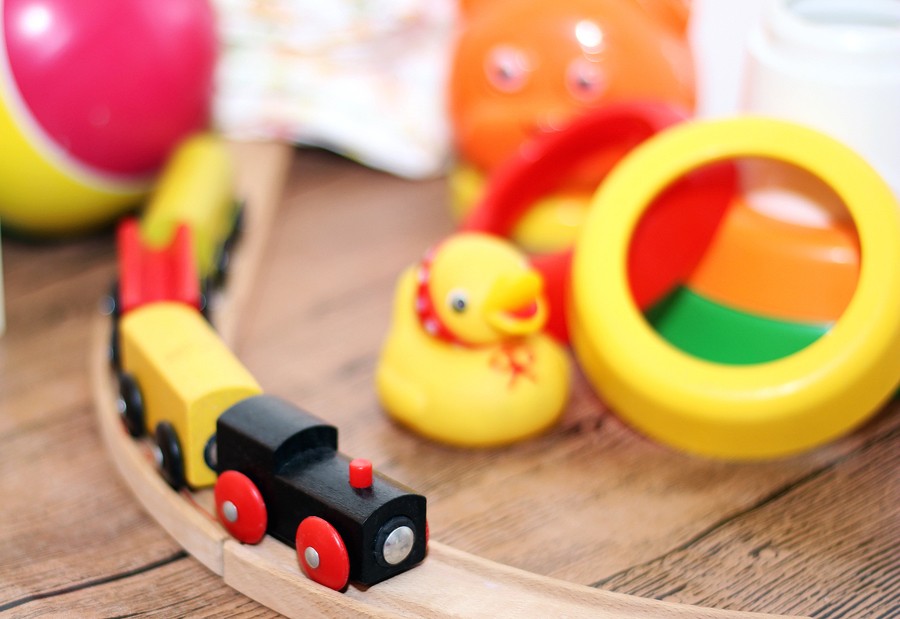 The world of kids' toys can be, well, a lot. If parents feel lightheaded just walking through a big box toy store, imagine how overwhelming and overstimulating little people must find the sheer volume and variety. Mile-high aisles in a rainbow of colours dazzle the eye, but they often end up in rainbow-coloured heaps on the play room floor at home. Here are a few simple tips for choosing well, and then caring for toys in a way that creates a simpler, greener play space with maximal play value.
Don't Bring the Toy Store Home
Confession: I love dolls. I love their tiny accessories, their outfit sets, their rubbery little shoes. You could lose me in the American Girl store, the Maplelea catalogue or the Our Generation aisle of my local Mastermind store for days. While I'm standing there, I want each and every one of the 20+ dolls on display and all their sleeping bag + s'mores camping sets. Ooh! Then there are the baby dolls. And the mini teenager dolls. And the plush baby dolls. Repeat after me: choose one kind of doll and stick with it. Okay, maybe two if you want to be able to set up tea parties, but I encourage your to embrace the philosophy of developing toy collections rather than collections of toys. What do I mean by that?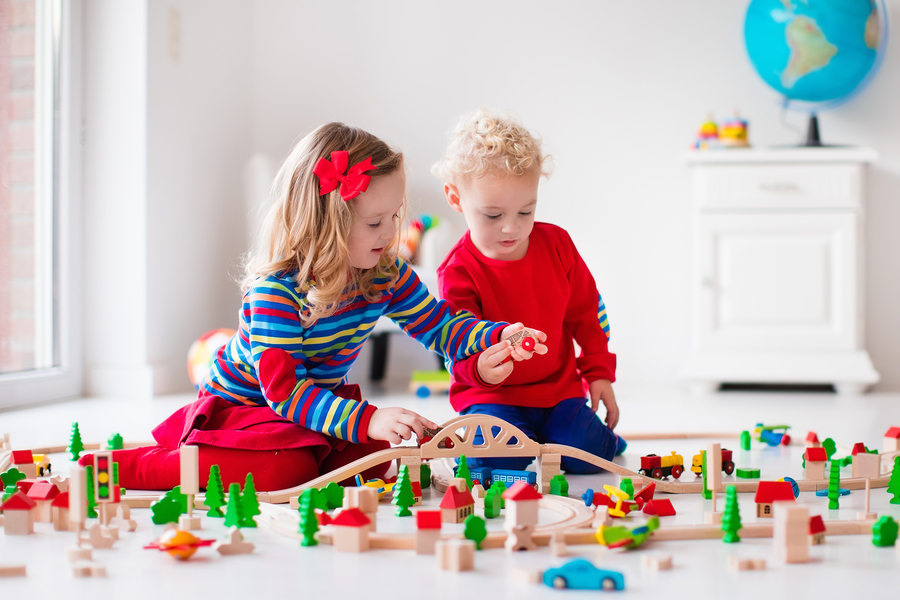 Create Toy Collections Instead of Toy Soup
Creating toy collections means committing to a particular toy and buying more of it, versus buying little bits of lots of different toys. For example, choose one favourite doll and then collect accessories for it, rather than buying many different types dolls in different sizes and shapes. Choose one type of train set, one type of building bricks, one type of play clay...and collect compatible pieces to grow your set over time. Fisher Price Little People have been a favourite of mine in all their forms, for generations. Pick one you feel great about the quality and design of, and build on it. Tidy up time will be much easier, since toys can then be binned by type, instead of every basket or bin containing a soup of incompatible brands and differently-sized pieces. This system also allows you to take more focused advantage of hand-me-down offers, resale shops and yard sales. Keep your eyes peeled for "your brands" and grow your collections in a more sustainable, eco-friendly way.
Include Open-Ended Play Materials
Teachers have always known that the best toys need kids to add imagination. Open-ended toys don't necessarily come with instructions. If they do, their play value extends well beyond them. Lego/Duplo, wooden train sets, and play kitchens are just a few examples of open-ended toys. A simple IKEA table and chairs can be a school, an auto fix-it shop, or a spaceship control room. A play kitchen can be a restaurant, a florist or a Tim Horton's Drive Through. Your kids will let you know. Open-ended toys last, are enjoyed for years, and engage kids of a variety of ages, so they're a great choice if you have several kids.
Know Your Toy Companies & Choose Quality Brands
If you can look at a particular toy or game and guess whether it came from a big box toy store, or a local neighbourhood toy shop, then chances are you've got an eye for quality. To develop your sense of quality, use the internet. Check out some great independent and educational toy store websites like Mastermind, Scholar's Choice, Scooter Girl (Roncevalles), The Swag Sisters (Coxwell + Gerrard,) and Treasure Island Toys (Danforth) to get ideas before you shop. Choose a few and read more about them on the toy maker's own website. Knowing your toy brands also allows you to source high-quality things, gently-used. Grow your collection gradually, adding to your bins of Lego, train tracks, play food, doll accessories, etc., when you find just the right ones secondhand. Here's a short list of toy and game-makers that we source and stock secondhand at iSpy Clothing, because they get top grades from educators for both quality and play value:
BlueOrange (makers of Double Shutter, Gobblet, Sumoku, Yamslam, and more)
EeBoo (makers of beautiful heavy cardboard matching games, bingo, and story-inspired fun)
Hape (makers of high-quality rubberwood toys and games with safe, finished edges)
Learning Resources (makers of high-quality plastic math learning toys and games)
Lego / Duplo (whose plastic density and shape are top notch for both play and durability)
Manhattan Toys (makers of both the fabulous Stella baby dolls and Groovy Girls)
Melissa & Doug (makers of wooden toys and puzzles that stand the test of time)
Smart Games (makers of Castle Logix, Pirates Jr., IQ Twist and other brain benders)
ThinkFun (makers of Rush Hour Jr. which, in my opinion is the best game ever invented)
Thomas the Train and other compatible wooden tracks (including Brio and generic brands)
Well-made toys will last longer and, if cared for, can be passed along to cousins, neighbours, friends or even resold to recoup some of the expense of buying well.
Check Materials and Give Toys a Sniff. Seriously.
If you always leave toy stores with a headache, it could be the fluorescent lights or the noisy kids at play. It could also be the toys. Plastic toys offgas (release chemicals into the air) and sometimes even contain synthetic fragrance to attract us to them. To keep your playroom air fresh and clean, give toys the sniff test before making your choice. Then, when cleaning your toys at home, green your clean with the following easy, non-toxic cleaning methods.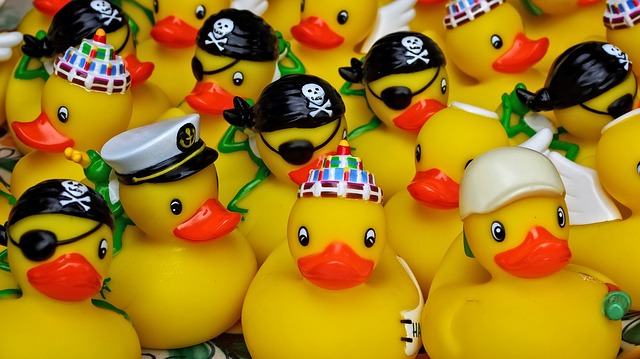 Think About Care & Cleaning
Natural rubber toys have been popular for the past number of years, with health-minded moms often preferring them to synthetic plastics. Then came the Sophie stories. Last year, the internet was awash (see what I did there?) with photos of Sophie the Giraffe, gutted from chin to navel, to reveal yucky black mould. Squeaky toys -- even phthalate-free and natural rubber ones -- are near impossible to clean. Whatever they are made of, once water gets inside them, they will likely develop mildew and mould. For this reason, I suggest giving squeaky toys the pass, in favour of toys that can be cleaned every now and then. Here are some greener cleaning suggestions to keep your play space spotless, without toxins:
Cardstock Puzzles, Games and Books:
Dust with a feather duster or Swiffer duster; give empty box a tap to remove debris.
Fully-Sealed Plastic Toys:
Fill sink with Dr. Bronner's liquid castile soap, or an eco-friendly dish soap and water, adding some vinegar to cut through any oil and grease; swish toy pieces around with a dishcloth or your hands and spray to remove soap; particularly tricky spots like marker or crayon can often be removed with a paste of baking soda and soap; arrange pieces loosely on dishtowels to air dry or pile them up in your in-sink dish drainer.
Plastic Games and Toys with Seams:
Wipe with a cloth using a diluted dish soap or Dr. Bronner's liquid castile soap and water solution, with a splash of vinegar. Hardcover books can often withstand a wipe with a wrung-dry, damp cloth too.
Fabric toys and Stuffed Animals
Many fabric toys and stuffies can withstand the occasional trip through a front-loading washing machine, on the delicate cycle. If you are in doubt, or if the toy is stuffed with beans rather than batting, you should consider hand-washing in a gentle, unscented, eco-friendly detergent like Attitude, Dr. Bronner's or Seventh Generation, to name a few with "A" ratings from the Environmental Working Group. Air dry your soft toys on the clothesline or indoors, on a clothes rack rather than risking shrinkage or damage in the dryer.
Disinfecting Hard Surfaces and Toys
If germs are something you worry about after a play date or party, or when one of the kids is sick, consider disinfecting toys with vinegar and hydrogen peroxide. While these should never be mixed, studies cited by David Suzuki's Queen of Green have found that used in sequence (one after the other, wiping in between) kills germs as effectively as toxic chemical and alcohol-based sanitizing products. You can read more about disinfecting with vinegar and peroxide here: http://www.davidsuzuki.org/what-you-can-do/queen-of-green/faqs/cleaning/non-toxic-disinfecting/
In the immortal words of Vivienne Westwood, "Buy less, choose well, and make it last."
---
Healthy Moms discount card holders receive 15% off children's clothing and free shipping at iSpyClothing.com. Find our more here.
Related Posts