The Lowdown on Awake Time For Babies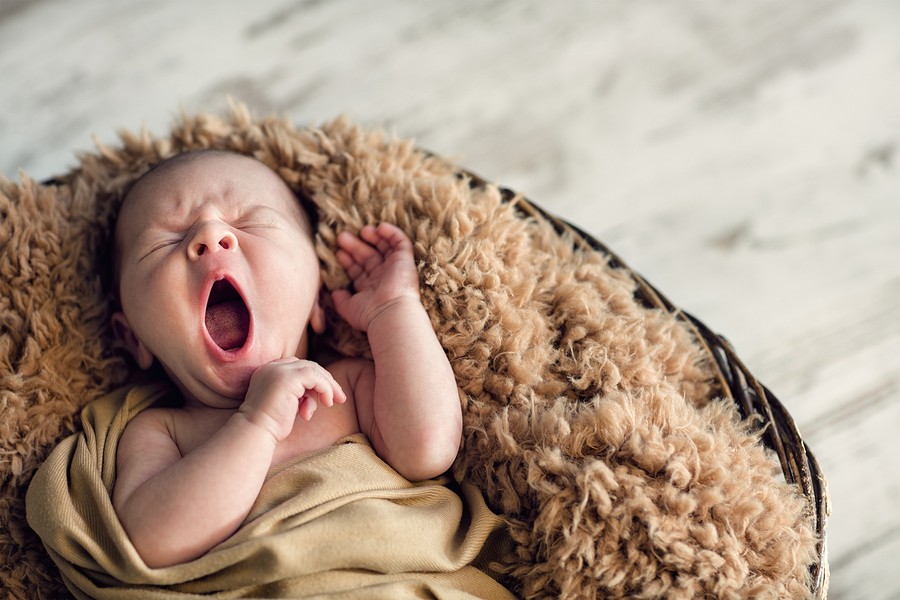 If there's one topic every new parent wants to talk about, it's sleep. When should my baby go to sleep? How long should they be up for? What is a proper bedtime? These are common questions that I get, as a sleep consultant. Trying to figure it all out can make a new parent's head spin. There is a lot of great information online, but let me break it down for you.
Remember this is a rough guideline. Watch your baby and look for those tired signs!
NEWBORNS
Newborns do a lot of sleeping, eating and pooping. By the time you've fed them, burped them and cleaned up the poop explosion, it's basically time for a nap again.
AWAKE TIME RECOMMENDATION: 45 – 60 minutes
NAPS PER DAY: 5+
2-3 MONTHS
Babies are starting to phase out of the newborn sleep at this point, and a day and night sleep pattern often has begun to form.
AWAKE TIME RECOMMENDATION: 60 minutes
NAPS PER DAY: 4-5
3-4 MONTHS
The dreaded sleep regression. You've all heard it and know it's coming. It often happens for babies at around 3-4 months of age. Your little baby who could sleep through fire truck alarms, vacuums and your Vitamix blasting, suddenly wakes up if you breathe too loudly and is harder to get back to sleep. The fourth trimester ends and baby is becoming more aware of his or her surroundings.
AWAKE TIME RECOMMENDATION: 1 hr 30 minutes
NAPS PER DAY: 3-4
5-5.5 MONTHS
Hopefully you are over the hump and sleep has begun to improve. Watch those tired signs! Get your little one down before they are overtired.
AWAKE TIME RECOMMENDATION: 2 hours
NAPS PER DAY: 3
5.5 – 6 MONTHS
As your little one gets older, they can stay awake longer and you start running out of time at the end of the day for a late nap. General Rule: If you have to choose between a late nap or an early bedtime, choose early bedtime!
AWAKE TIME RECOMMENDATION: 2 hr 30 minutes
NAPS PER DAY: 3
6-7 MONTHS
I love this age! Two naps a day is fabulous. Your baby can now begin to stay awake much longer and you'll have more time to get out for a long walk, sit in the park or enjoy a nice lunch with some friends. Try to honour your baby's awake window and get home for a nap if possible. There's nothing wrong with having a nap on the go, you just don't want it to become a daily motion nap.
AWAKE TIME RECOMMENDATION: 3 hours
NAPS PER DAY: 2
8-14 MONTHS
There are lots of fun changes around this age. Maybe your baby has begun to sit, crawl, pull themselves up, or start walking! Time to baby-proof the house.
AWAKE TIME RECOMMENDATION: 3-4 hours
NAPS PER DAY: 2
15+ MONTHS
Babies drop to one nap a day on average between 13-15 months. We recommend slowly transitioning the number of naps per day to just one. It's a big switch and they can get really sleepy in the morning.
AWAKE TIME RECOMMENDATION: 4-5 hours
NAPS PER DAY: 1
UNTIL 3 or 4 YEARS OLD
Toddlers need their naps! Try to honour that nap as much as possible, because when a toddler gets their second wind and becomes overtired, watch out! Tantrums, bedtime battles and stalling tactics only get worse when children are exhausted.
AWAKE TIME RECOMMENDATION: 5 hours
NAPS PER DAY: 1
Hopefully that gives you and your family a rough guide of when to get your little one down for a nap and into bed. An ideal bedtime is between 6 and 8pm. If your child is experiencing early morning wakes, remember that sleep begets sleep and an early bedtime is KEY!
Click here to download your FREE copy of our WeeSleep Awake Time Cheat Sheet.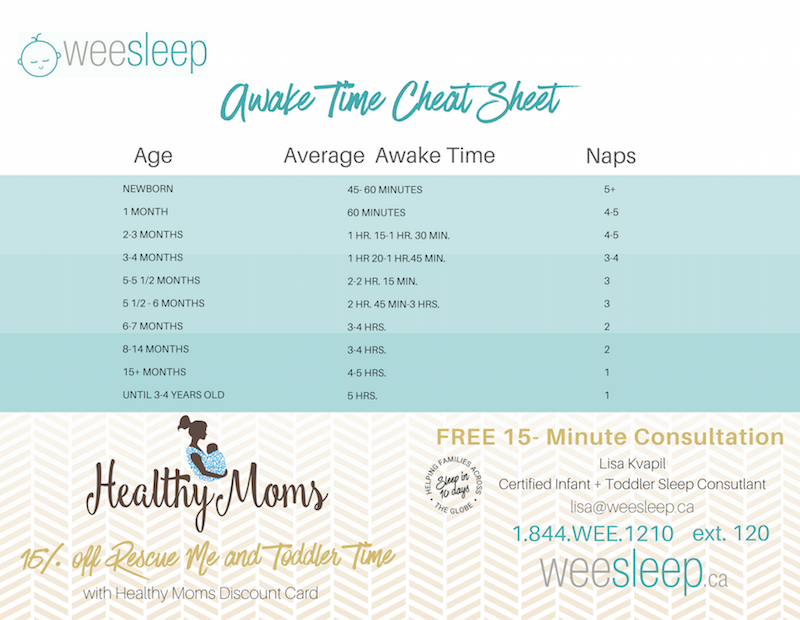 ---
As a Professional Paediatric Sleep Consultant with WeeSleep, I provide loads of free sleep advice and great parent content on my Facebook page. We welcome you to follow our tribe of sleep-passionate (or deprived) parents around the globe as we share tips, stories and the straight goods on sleep at WeeSleep and follow me personally on Instagram and Twitter so we can rock this #sleeprevolution together!
Receive 15% off Rescue Me and Toddler sleep packages (virtual and in-home) with Lisa Kvapil at WeeSleep. Find out more on the Healthy Moms business listing: https://gohealthymoms.com/weesleep
Related Posts