What Not To Do With Picky Eaters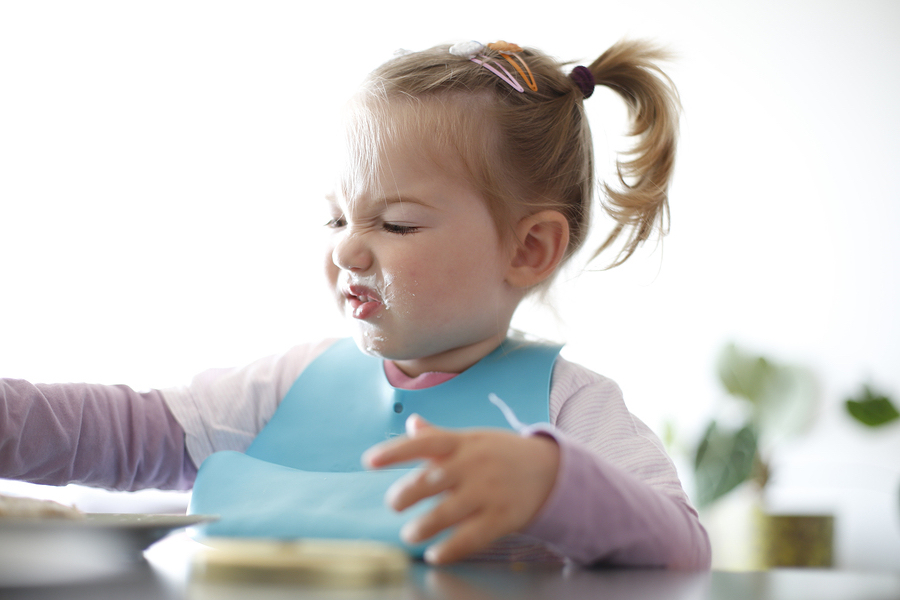 In parenting, as in all areas of life, mistakes are unavoidable. We set out with the best intentions, but somewhere along the way, things go awry. Every parent loves their child and wants them to be well nourished. Parents can be thoughtful and well intentioned but sometimes we interfere too much when it comes to feeding our kids. This is especially the case when dealing with a picky eater and sometimes we end up doing more harm then good. This information is intended to help you, not to place blame or make you feel any worse than you already do about your child's eating habits. Watch out for common mistakes and learn how to implement best practices. It is never too early or too late to create a positive eating experience for the whole family.


5 Common Mistakes When Dealing With Picky Eaters
Offering alternative meals:
When you prepare a meal for your child and they refuse to eat it, your instinct may be to find something else that they WILL eat. Parents will often go back into the kitchen and pull out leftovers, have a standard back up such as a peanut butter and jelly sandwich or prepare a completely new meal for their child in the hope that they will JUST. EAT. SOMETHING! Offering your child an alternative solution teaches them that there is

never

a need to eat what is being served or to try something new. They develop the expectation that you will always cater to them.


Asking your child what they want to eat:


As parents, it is our role to decide what is being served at meals and snacks. We try our best to ensure meals are nutritionally balanced and small children are not capable of making these decisions. Have you ever prepared a meal that your child has requested only to have them completely refuse to eat it? Children typically do not know what they will eat until the food is sitting right in front of them. Even though the parents are responsible for planning the menu, your child still has a say at mealtime. They are responsible for choosing how much to eat of the food that is being offered.




Plating your child's food:


Passing your child a pre-filled plate is something that many parents do. We assume that we know what they are going to eat and putting it together for them seems easier (and less messy)! The problem is that plating your child's food limits their exposure to non-preferred foods and limits their opportunity to try something new. For the child, plated food can also feel like PRESSURE. When you put the plate down in front of them, they interpret it as if you are saying "these are the foods that I expect you to eat and this is how much I want you to have."




Bribing or negotiating:
When a child feels pressure to eat, they typically end up eating less, not more. It should always be the child's responsibility to decide which foods to eat and how much, from what is being offered. Although you may feel that your child should be eating more, when we pressure them to eat a specific food or quantity, we are teaching them to override their body's internal cues. You may be conditioning them to eat everything on their plate, even when they are already full. They may not be eating because they are teething or constipated or tired. It is important that we allow children to listen to their bodies and learn how to self-regulate when it comes to their eating. This doesn't mean that they won't ever make mistakes with their eating, but we need to let them make these mistakes so they can learn from them.


Feeding your child the same foods everyday:


This can be tricky when you have a very picky eater on your hands. How can you offer variety when you child only eats 10 foods? If a child eats the same food everyday, prepared in the same way (and in many cases, multiple times per day), you run the risk of them burning out on those foods. One day they may simply refuse to eat it any longer. It's wise to seek professional help BEFORE this happens. Children will often go through phases with the foods they eat but it is important to ensure that your child is adding more foods than they are losing.

Support for Parents and their Picky Eaters
If mealtime is a constant battle and you are struggling with your child's eating, contact Aviva Allen for helpful strategies that are tailored to suit the needs of your child and your family. Aviva's approach is parent centred, which means she works with parents to support both the child AND the parents and ensure a healthy feeding relationship. Click here for more information about Aviva Allen's services or to book a phone or Skype appointment.
---
Healthy Moms Toronto Cardholders receive a FREE 30 minute follow up session when you book an initial consultation with Aviva Allen ($55 value) or save $5 off one of her workshops. Learn more here: http://healthymomstoronto.com/aviva-allen-kids-nutritionist.
Related Posts