You are here:
Fennel Organic Eatery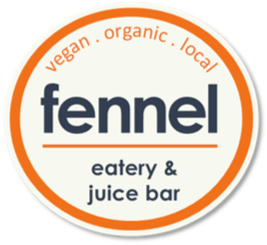 10% off your order
Business Details

Map

Gallery

Business Locations
---
>Receive 10% off your order from Fennel Organic Eatery.
---
Plant-based, local and organic cuisine for everyone. Located inside Noah's Natural Foods at Bloor and Spadina, Fennel Organic Eatery is 100% vegan with a focus on high quality organic and local ingredients.
Customers serve themselves from their buffet of delicious hot and cold dishes that change daily. They keep it simple. Pricing is based on weight and is set at a flat rate of $2.70/100gm.
​They also offer delicious snacks, wraps, soup, baked goods, fresh juices, and smoothies. Their mission is to serve simple, healthy and delicious foods to energize their happy customers!
Visit www.fenneleatery.com for more information and show your card to receive your discount.