I Spy A Place Where Kids' Style Is About More Than Looks
Everyone asks me where I buy my son's clothes. I take it as a compliment and, to be honest, I sort of feel like it's earned. I agonize over what he wears…sometimes even just to come down into the kitchen. It's not that I'm so superficial or that I attach his (my) self-esteem to his appearance—I just feel like he's such a sweet and lovely little creature, he deserves to look his best.
Even though his clothes are chosen with care, and bought with high standards in mind, I don't keep him from getting dirty or from enjoying whatever it is he's doing, whether it's sinking his full complement of little baby teeth into the juiciest plum you ever saw or "painting" a father's day card for his top favourite person. I don't like tiptoeing around 'things', I believe in enjoying them. Somehow, most of our stuff comes out unscathed. Baby clothes wash, I found out. And especially, the better quality stuff.
The Slippery Slope of Baby Designer Brands
So, I fell into the baby designer brands hole...and let me tell you: it's deep. Soon, you stop gawking at baby sweatpants that cost well into $100 and will likely fit them for three months (if that). Branded tees with 'smart' sayings on them that (once you factor in the exchange rate, shipping, taxes and customs) are more than $75 for a pretty bit of organic cotton. You become secretly horrified at your own consumerism...and then you realize there are other moms on the same track, and you buffer your collective sanity by buying and selling to and from each other.
Suddenly things cost a bit more than half price and you feel like a damn hero. And then you run across a pre-loved kids clothing store that has someone at the helm with a pretty solid fashion sensibility and an eye for ethics that teaches you that you can care about your little one's style AND be a better person.
Obviously, we all want our kids to grow up with a solid moral compass. We try to teach them kindness, empathy, mindfulness, and a whole host of other beautiful characteristics—some of which stick, while others have to be filed under "Revisit." I always thought that the opportunities to demonstrate those qualities were limited to specific situations: reacting generously to homeless people, being helpful and conscientious with the elderly, being mindful and educated about other cultures. But my introduction to iSpy Clothing made it clear that every way you approach life is a lesson and an opportunity to do the better thing.
Sustainable, Pre-Loved Clothing Options
iSpy Clothing is a second hand clothing store that prides itself on being a purveyor of perfect pre-loved clothing. That means its goal is to provide a sustainable product—and keep high turnover merchandise out of the landfill, but the shop's contribution to society doesn't end there—they never stop thinking about being a part of social change. Most recently, the store has challenged the blatant gender stereotyping that's existed in clothing since forever, by launching a 'neutral' section on their website that includes cool stuff that's just cool…for all kids. No frills, literally.
I've always taken liberties with my son's clothing. I've always shopped the girl sections, particularly from the mid-range brands—from The Gap to H&M—buying the stuff that wasn't pink or frilly, but more form fitting and somehow edgier on my son. It was my trade secret: Gap skinny jeans for baby girls fit like designer jeans on boys. I took risks in the interest of style, but I was also refusing to be spoon-fed big box gender ideals.
"I want people to be happy. That's my real goal"

- Rebecca Saha, iSpy Clothing
So when iSpy announced their new section, I knew it was time to shop there. I had a budget of $60 and figured I'd pick up a top and some pants, maybe one or two board books, but it went really far. Co-owner Rebecca Saha told me to shop with abandon, because stuff was priced really well. "I want people to be happy. That's my real goal," she said. It's evident. After choosing everything you want and inputting your credits, you'll get goosebumps at the tiny final sum.
I decided to shop on my smartphone from bed at night while everyone was sleeping because it's basically my absolute favourite thing to do. I made an account because it was quick and easy, then started browsing through absolutely everything. Usually, the local kids clothing shops have limited options or no online catalogue, but iSpy has enough content to keep you glued for hours (if you have the time to spend, you'll spend it.) I scoured the site and checked out much too late in the evening (or early in the morning) and in the end, I walked away with a super cool pair of vintage dark blue/green tartan floods with built in braces, a silver Zara puffer vest, some water shoes (really needed those this summer with a splash-pad obsessed 2-year-old), a set of 5 Peter Rabbit books that I used to love when I was a child and another set of 4 board books including a beautifully illustrated classic called 'Freight Train' that's been totally mesmerizing at bedtime. All that in addition to a cute pair of thermal leggings and a set of four plush cars that we can finally feel safe about letting my little dude take to bed.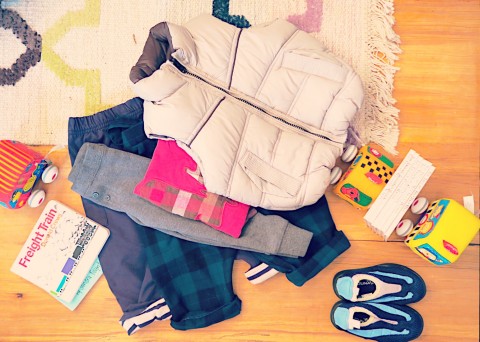 Buying from this store is awesome. You get some amazing stuff and your little person can continue to look adorable at a fraction of the cost. You can leverage your purchases to teach your child about sustainable clothing and its impact on the environment; further the concept of gender-neutral-wear, and learn that small businesses have the biggest opportunity to be mindful about their marketing philosophy.
And best of all, you become a link in a beautiful connected chain of conscientious moms and all of our stylish little kids that grow so so very fast.
---
To find out more about iSpy Clothing, visit: www.healthymomstoronto.com/ispy-clothing. Healthy Moms Toronto Cardholders can save 30% off clothing, shoes & accessories when they shop at iSpy Clothing.
Related Posts