You are here:
Wonderwear Diaper Service
Wonderwear Diaper Service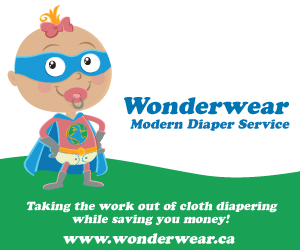 ---
>Receive 30% off any Wonderwear starter package.
---
Taking the work out of cloth diapering while saving you money!

Wonderwear Modern Cloth Diaper Service is a super alternative to disposable diapers. Their mission is to provide families with an easy and cost effective diapering solution that is safer for babies and helps reduce deforestation and the landfill impacts of disposable diapers.

How their service works in 3 easy steps...
1. Just toss the soiled diapers in the odor proof and waterproof diaper bag they provide and place on your doorstep once a week for pick up. There is no need to dump or rinse the diapers whatsoever.
2. When they pick up, they will leave you a new set of hospital level sanitized diapers in a clean diaper bag.
3. Remove the diapers and place the diaper bag in your pail ready to collect used diapers.

Visit www.wonderwear.ca or more information or to sign up for the service and enter your promo code to receive a discount on your starter kit.
Business location has not been defined