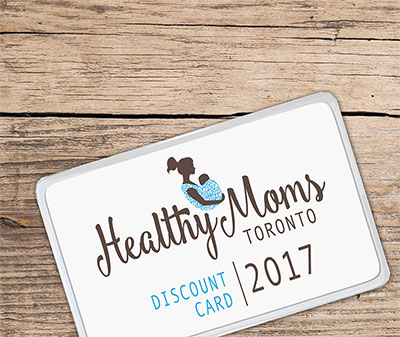 2017 Healthy Moms Discount Card
$25.00
**NOTE: The card is currently only available for those living in the Toronto area but will be available for the city of Vancouver as of September 1, 2017.**

>Click here to sign up and receive a special early-bird offer to purchase the Vancouver card.


The key to citywide savings on natural options for your family.
As a Healthy Moms cardholder, you have the potential to save hundreds, if not thousands, of dollars on organic mattresses and linens, health and wellness services, nutritional supplements, organic food, baby items, children's clothing, natural skincare products, fitness classes and so much more.
Once you've purchased your card, click here for a full list of participating businesses in your area and the savings you'll receive through in-store shopping and online purchases. You can expect your card to arrive within 3-5 business days.

*PLEASE NOTE: The 2017 card expires after December 31, 2017. This card will no longer be available for purchase as of July 1, 2017 as we gear up for the launch of our new card this Fall.